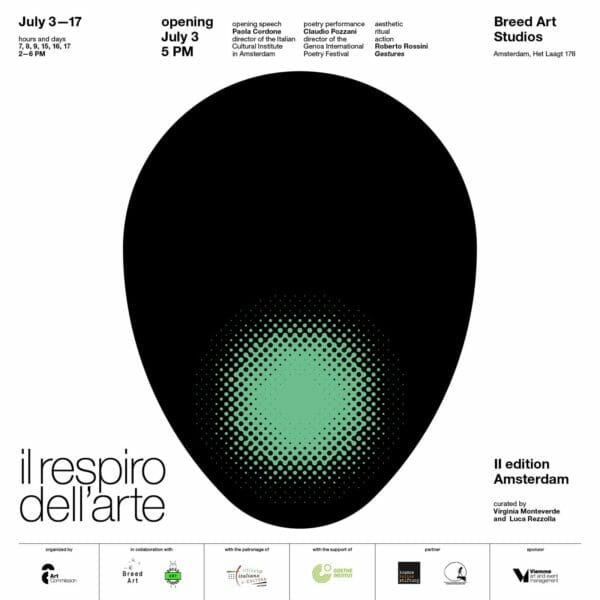 03.07-17.07.2021
Curated by Virginia Monteverde in collaboration with Luca Rezzolla
Opening exhibition
Saturday July 3 2021 5-8 pm
Program
– Opening speech by Paola Cordone, director of the Italian Cultural Institute of Amsterdam – OUTDOOR*
– Poetry performance by Claudio Pozzani, director of the International Poetry Festival of Genoa –OUTDOOR*
– 18:30 Aesthetic-ritual action by Roberto Rossini "Gestures".**
Open: 7,8,9,15,16,17 July 2-6 pm
*OUTDOOR events are accessible WITHOUT LIMITATIONS on 1,5m distance.
**RESERVATION REQUIRED for EXHIBITION VISIT and INTERNAL EVENTS
Reserve your FREE Tickets!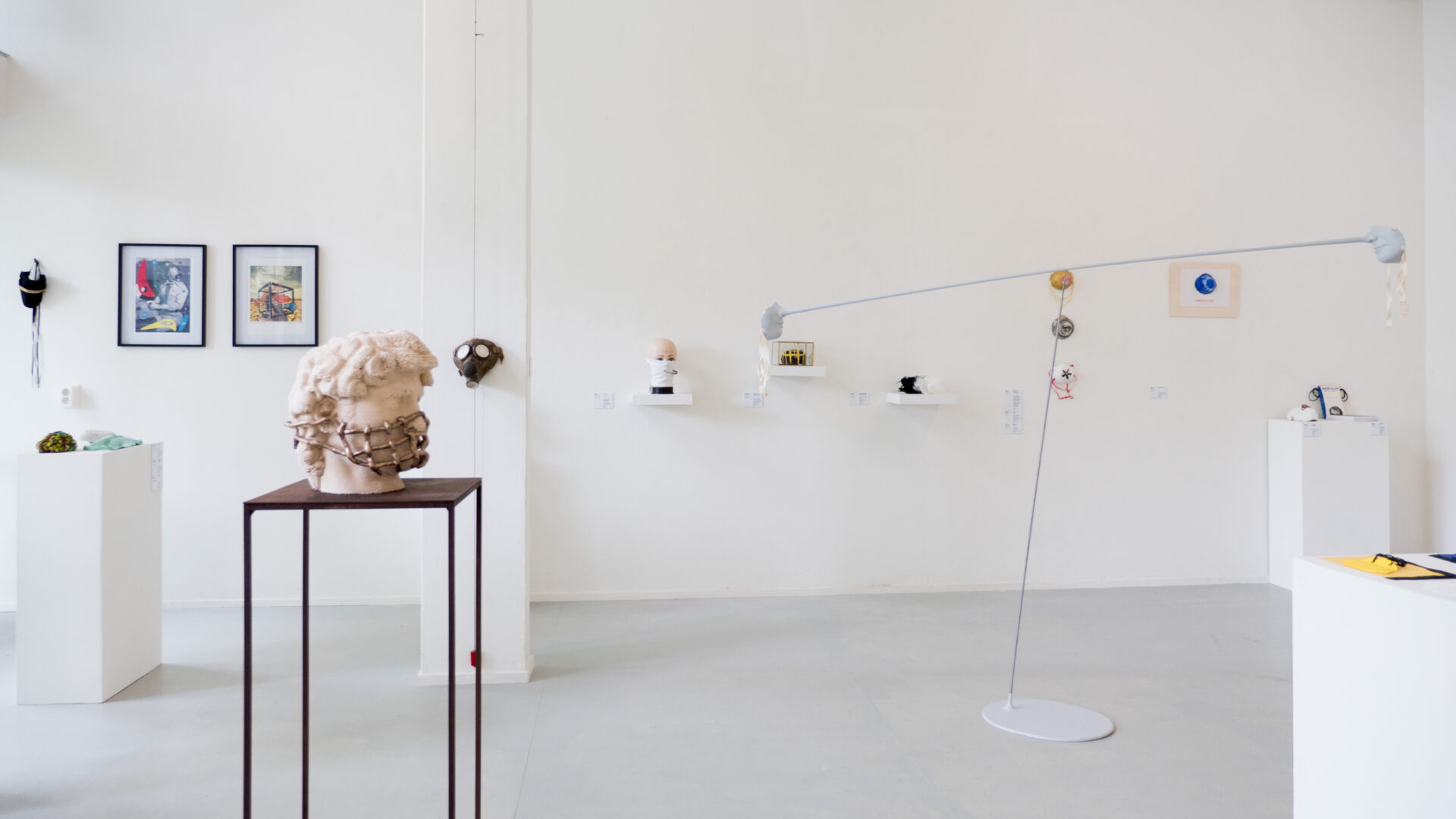 Photos Luca Rezzolla
Artists
Emiliano Alfonsi IT, Maria Rebecca Ballestra IT, Connie Bellantonio IT, Mariella Bettineschi IT, Stefano Bigazzi IT, Andreas Burger DE, Virginia Cafiero IT, Tiziana Cera Rosco IT, Marcela Cernadas ES/AR, Isabel Consigliere IT, Carla Crosio IT, Pier Giorgio De Pinto CH , Loredana Galante IT, Armida Gandini IT, Mauro Ghiglione IT, Gianluca Groppi IT, Sophie Hjerl DK, Carla Iacono IT, Fukushi Ito JPN/IT, Leslie Johnson SE, Friederike Just DE, Florencia Martinez AR/ITA, Luisa Mazza IT, Fabrizio Duilio Merkel IT, Viviana Milan IT, Maurizio Nazzaretto IT, Giuseppe Negro IT, Nikos Moschos GR, Anna Oberto IT, Angelo Pretolani IT, Paola Rando IT, Silvano Repetto CH, Fried Rosenstock DE, Roberto Rossini IT, Marco Rotelli IT, Alexander Schabracq NL, Nina Staehli DE/CH, Tadzia en Jean Sadao IT/JP, Nano Valdes ES, Anne-Claire van den Elshout NL
Poetry section: "The Voice of the Poets"
curated by Claudio Pozzani.
Qr code videos of the poets: Yang Lian CN, Claudio Pozzani IT, Les Wicks AU, Endre Szkarosi HU, Roberto Mussapi IT, Stefano Bigazzi IT.
Dance section: "Every Breath I Take I'm Still Dancing"
curated by Francesca Pedullà e Davide Francesca.
Videoperformance of 19 international dancers:
Eric Acakpo BJ, Ornella Balestra IT, Marco Becherini IT/FR, Anne Cecile Chane-Tune FR/BE, Francesca Cinalli IT, Frey Faust US/DE, Gustavo Giocosa IT/FR, Olivia Giovannini & Giulia Ferrando IT, Baris Mihci TR/DE, Arturo Minutillo & Federica Massaro IT, Thiago Oliveira BR, Sara Parisi IT/BR, Anna Claudia/Didi Pedone BR, Francesca Pedullà IT/DE, Filippo Serra IT/DE, Francesca Spezzani IT.
il respiro dell'arte
Art Commission in collaboration with Breed Art Foundation is pleased to present the Dutch stage of the exhibition Il Respiro dell'Arte (The Breath of Art), which arrives in The Netherlands after the first edition at Palazzo Ducale in Genoa.
The exhibition is part of the project Il Respiro dell'Arte, born during the lockdown in 2020. Many artists from different countries have joined, called to interpret and realise according to their own vision and technique, what is and will remain the symbol of the fight against the virus: the sanitary mask.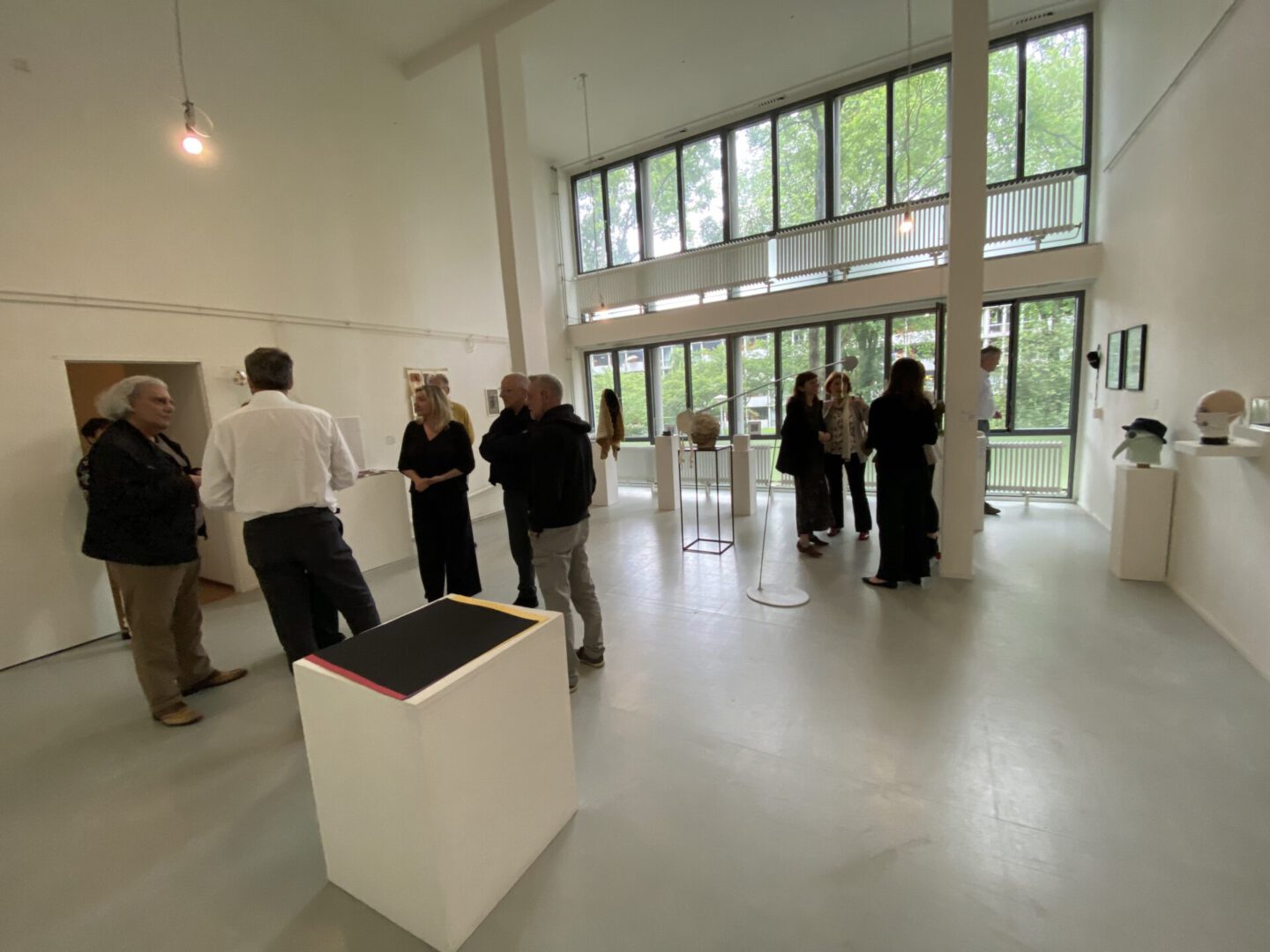 Photos Hulya Yilmaz & Luca Rezzolla