DiegoB Baglioni | Mr Greedy
FACE YOUR VIRALITY
04.04-06.06.2020 prolonged till 05.07.2020
Curated by Luca Rezzolla
VIRTUAL OPENING
Saturday April 4 2020 5pm
Photos Luca Rezzolla
FACE YOUR VIRALITY (En) "We will not go back to normality because normality was the problem." Empathy over economy
Sharing over competition
Culture over profit
Research over sale
We want it all!
We want it now! DiegoB Baglioni, painter, artist and poet, currently lives and works in Perugia.
In November 2014 DiegoB was the first artist to expose his works in Breed Art Studios with the exhibition JUNGLE IN THE CITY.
That was the beginning of a long serie of art shows that with Face your Virality reached number 35!
To celebrate over 5 years of collaboration with Breed Art Studios, Diego will show his 'Faces', painted in 2002, for the first time ever in Face Your Reality.
About them he says:
"The concatenation of forms, powerful synchronisms, is gathered in cosmic spaces and is projected into transcendent purity" One morning Mr Greedy went to his usual supermarket to buy a couple of mozzarella for his pizza.
At the entrance, the space normally full of baskets and trolleys was empty.
As he headed for the mozzarella, he saw rows of baskets and fully loaded trolleys filling the whole space.
Toilet paper and pasta were out of stock.
He was very surprised.
He had seen it happen in Italy 10 days before, but there people immediately realized that the hamstering was not necessary.
He thought that Italy was Europe, but he realized that this information was not provided in other European countries as it should have been for the good of all humans.
He started hamstering toilet paper and pasta to produce art.
Art that could even fulfil contemporary politicians' needs that demand neighbourhood oriented 'community (f)art' projects.
He thought that every community in the world would be able to understand and feel comfortable with toilet paper and pasta…!
Mr Greedy, that like many famous contemporary artists has his assistant do a lot of his work, has now quite a lot of space in Face your Virality.
He hopes to surprise you:
He woud like to share his space with you!
Decide your spot in Face Your Virality and send a picture of your artwork proposal.
If approved you will be asked to send your artwork per post and shortly you will see it in Face Your Virality!DiegoB is still thinking about his space…maybe he will let you know…
But he would be very pleased to receive critics' and journalists' written opinions in a collective brainstorming to build up a manifest of something different from normality: Viral primitivism.
VIRTUAL OPENING II
Sunday April 26 2020 5pm
With additional works by Francesco Candeloro (IT), Mario Consiglio (IT), Tamara Dekker (NL), Kitty Doomernik (NL), Renske Reijnard (NL), Paul Rinzo (NL)
VIRTUAL OPENING III
Sunday May 24 2020 5pm
With additional works by Roland Berning (NL), Federico Bonelli (IT/NL), Jacqueline Lamme (NL), Femke Moedt (NL), Florence Husen (NL), JP Paumier (FR/NL), Rob Ruimers (NL), Greet Weitenberg (NL)
Ans van Berkum
Face Your Virality in Corona Times
Two kinds of faces, two sides of the coin. Mr. Greedy is watching us. We empty the shops to be especially prepared for a long stay in bomb shelters; everyone scrambles their own wet and especially dry together.
Completely unnecessary and pathetic too. In these smiling and crying pleated-roll faces adorned with spaghetti, you see your behavior magnified to the laughable proportions it actually has. Ai !!!
But then there is Diegob Baglioni. He breaks in and shows the other side. A fantastic artist from Perugia, who once spent several months in Amsterdam and left nine paintings behind. I first saw them in Breed Art Studios' office, and was grabbed. They are brutal, honest and straightforward. They don't copy anything or anyone. They tell the story of the animal and the city. They are wild dreams, in which the dreamer does not believe his eyes.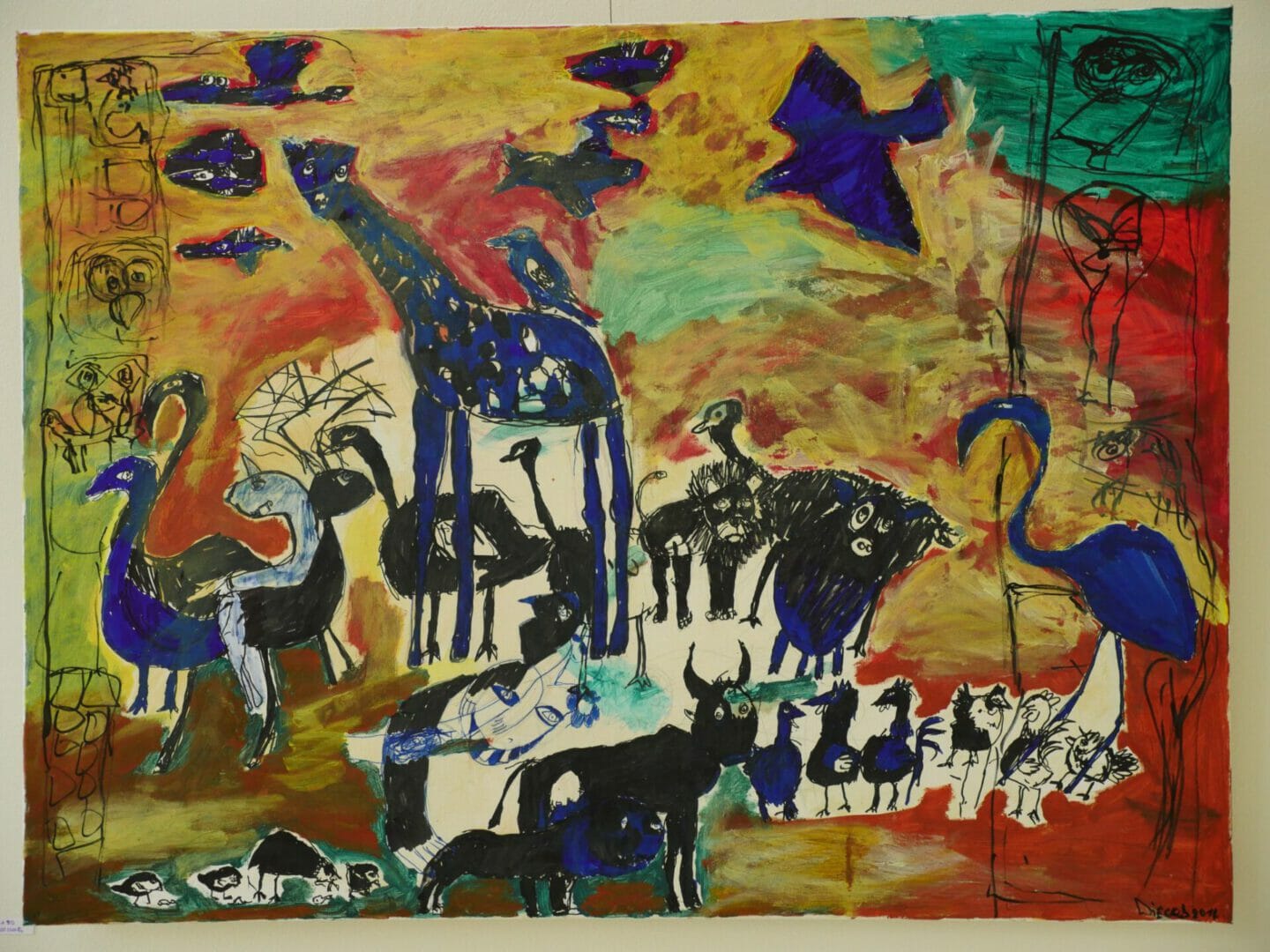 What is Diegob doing now at Breed Art Studios? He presents never-before-seen portraits. Raw, but with a rare intense expression. They appear on the white walls. They show that the greedy, smiling and crying faces have to give way. They have to make way for work that harmonizes in strength and individuality. They have to give way to images, objects, photos or whatever. Related, vibrant art should find a place here.
Send the work you want to show to Breed Art Studios!
Face your Virality in Corona Times!
Ans van Berkum