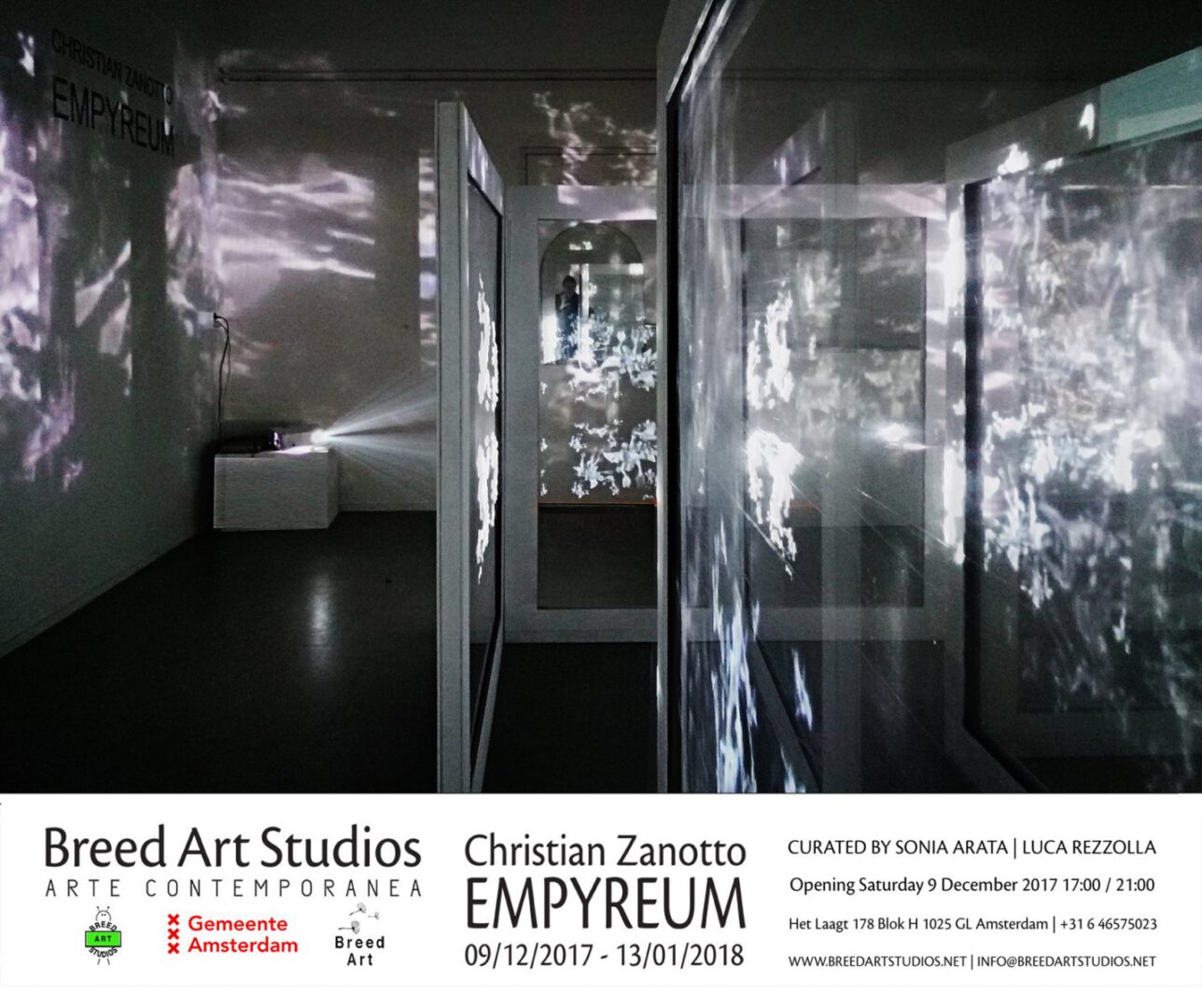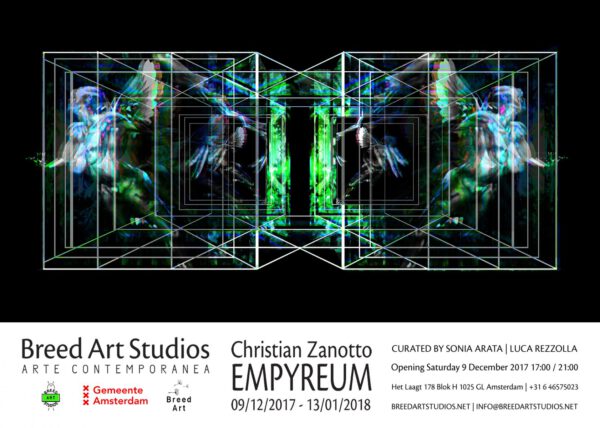 CHRISTIAN ZANOTTO
EMPYREUM
December 9 – January 13 2018

Opening Exhibition
Saturday December 9 2017

5pm – 9pm
Curators: SONIA ARATA and LUCA REZZOLLA
Solo Performance on Cello by ALEKSANDRA KASPERA at 19:00 hrs
Breed Art Foundation is pleased to present EMPYREUM,
Christian Zanotto's solo show curated by Sonia Arata and Luca Rezzolla, which will open on Saturday 9 December 2017 from 17:00 to 21:00 at Breed Art Studios, Het Laagt 178, Amsterdam-North.
The exhibition, running till the 13th of January 2018, will transform the "white cube" of the exposition venue into an environmental holographic theater, scene of kaleidoscopic projections which will involve the space at 360 degrees. The visitors, free to move around, will be immersed in an aerial apnea in the vivid and suspended atmosphere of lights and colors.

The site-specific video installation EMPYREUM
consists of 12 holographic projection screens: square linear modules, located in pairs in the room, capture and refract along unpredictable trajectories fluctuating digital entities, shaped and animated inside the virtual realm by Christian Zanotto. The weightless figures multiply in a sort of scaled empyrean that has descended into appearance and has been brought into existence by means of the luminous emanation of beamers, in a round dance of glimmers, reverberations, reflections and ethereal presences.
Candid geometric structurality and immateriality intersect in this contemporary vision of a numerical sky populated by a blanket of winged characters , shiny finned angels which appear to us in a choreography of hovering movements in a sphere devoid of gravity, a different and incorporeal dimensional plane that manifests.Opening
Photos Attilio Brancaccio
Christian Zanotto,
who since 2000 lives and works between Amsterdam and Venice, carries out a peculiar artistic investigation aimed to a technical and conceptual fusion of material and immaterial, of the universe of the virtual and that of tradition, exploring how they interface. The artist models intangible sculptures which he then translates into wall pieces on crystal panels or holographic sequences and installations, audio-visual works that confront the spectator with a context "other", adjacent, parallel and co-present with the one commonly perceived, a staging of multiple levels of reality. Christian Zanotto's C.V. >
Photos Sonia Arata | Christian Zanotto | Tatjana Todorovic | Franco Cavuoto
Breed Art is a contemporary art foundation 
devoted to an intense cultural activity of exhibitions and events programming focused on the presentation of prominent Dutch and international artists who stand out for their commitment to research, originality of expressive media and innovative attitude towards artistic production, installation and performance.
Aleksandra Kaspera
is born in 1984 in Riga (Latvia). Since 2015 Aleksandra plays in the Ensemble The String Soloists of the dutch violinist Lisa Jacobs in Amsterdam, regularly appearing on television, radio and in the most important halls in The Netherlands (such as Concertgebouw Amsterdam, Paleis Het Loo, Tivoli Vredenburg, De Harmonie Leeuwarden, Stadsgehoorzaal Leiden, Muziekgebouw Eindhoven), Germany and Italy. Aleksandra Kaspera – Brief C.V. >
Making of
Daylight
Videos & photos Luca Rezzolla
Till Saturday January 13 2018
Thu-Fri-Sat: 2 pm – 8 pm