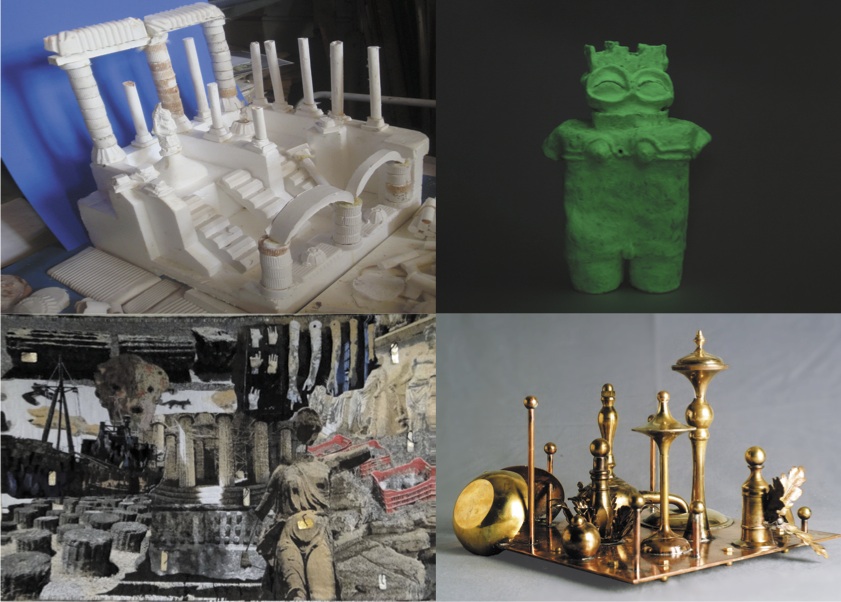 MUSTAFA SENER | SUSAN KOOI | MARIËLLE VAN DEN BERGH

|

MELS DEES
FUTURARCHEOLOGY
January 20 – March 10 – 2018


OPENING


Saturday January 20 – 2018
5pm – 9pm
What if archaeologists from the future later excavate objects from our time?
Search your answer in FUTURARCHEOLOGY, an exhibition between future and past with Bi and Tridimensional works of Mustafa Sener (TR/NL), Susan Kooi (NL), Mariëlle van den Bergh (NL) en Mels Dees (NL), curated by Luca Rezzolla.
The show, presented by Stichting Breed Art, will be on display at Breed Art Studios, Het laagt 178 Amsterdam-Noord from 20 January till 10 March 2018. 
The opening will be on Saturday January 20 from 5pm till 9pm. Live broadcast on facebook/breedartstudios from 7pm.
Furthermore FUTURARCHEOLOGY will be on display until March 10 2018:
Thu – Fri – Sat: 12:00 to 18:00 hours.
Mustafa Sener is an Amsterdam based artist with a Turkish background. His work is clearly inspired by the cradle of Eastern and Western culture.
Susan Kooi travels to Italy, Portugal and Japan to work with different traditions of ceramic crafts. She seeks proof of use and the meaning of the object, both real and fictional during its lifetime and in the future.
Mels Dees and Mariëlle van den Bergh share that interest and travel around the world. The experiences they gain from this are reflected in their work: sculptures, tapestries, photographs and paintings .Mariëlle is currently working as artist-in-residence at the EKWC, European Ceramic Workcentre in Oisterwijk.
The exhibiting artists will provide an additional contribution to the public by giving two workshops:
February 17: Workshop "From far and closeby" takes place from 15.00 to 17.00 in Het Breedhuis (Het Breed 16). Local residents and visitors from all left-seasons are invited to come to Het Breedhuis with a dear object, where they will be photographed in front of different backgrounds by Mels Dees and Mariëlle van den Bergh.
Wat als archeologen uit de toekomst later voorwerpen uit onze tijd opgraven?
Zoek je antwoord in FUTURARCHEOLOGY, een tentoonstelling tussen toekomst en verleden met Bi en Driedimensionale werken van Mustafa Sener (TR/NL), Susan Kooi (NL), Mariëlle van den Bergh (NL) en Mels Dees (NL), samengesteld door Luca Rezzolla.
De expositie, gepresenteerd door Stichting Breed Art, is te zien in Breed Art Studios, Het laagt 178 Amsterdam-Noord, van 20 januari t/m 10 maart 2018.
De opening vindt plaats op zaterdag 20 januari van 17:00 tot 21:00. Live-uitzending op facebook.com/BreedArtStudios vanaf 19.00 uur.
Verder is FUTURARCHEOLOGY te zien t/m 10 maart 2018:
do – vr – zat: 12.00 – 18.00 uur.
Mustafa Sener is een Amsterdamse kunstenaar met een Turkse achtergrond. Zijn werk is duidelijk geïnspireerd door de bakermat van de oosterse en westerse cultuur.
Susan Kooi reist naar Italië, Portugal en Japan om te werken met verschillende tradities van keramische ambachten. Zij zoekt het bewijs van gebruik en de betekenis van het object, zowel echte en fictieve tijdens zijn levensduur en in de toekomst.
Mels Dees en Mariëlle van den Bergh delen die interesse en reizen daarvoor de wereld rond. De ervaringen die zij daarbij opdoen vindt men terug in hun werk: sculpturen, wandtapijten, foto's en schilderijen. Mariëlle werkt momenteel als artist-in-residence bij het EKWC, European Ceramic Workcentre in Oisterwijk.
De exposerende kunstenaars leveren een extra bijdrage aan het publiek door twee workshops te geven:
17 februari:

Workshop "

Van ver en dichtbij

" vindt plaats van 15.00 tot 17.00 uur in

Het Breedhuis

(Het Breed 16). Buurtbewoners en bezoekers van alle leeftijden worden uitgenodigd om met een dierbaar voorwerp naar Het Breedhuis te komen, waar zij voor verschillende achtergronden gefotografeerd zullen worden door

Mels Dees en Mariëlle van den Bergh. 
Photos Olga Tsjeremnych
Photos Mariëlle van den Bergh
2. March 10: Workshop "Clay Archeofuturistic sculptures with Mustafa and Susan" takes place from 15.00 to 17.00 in the living room of Breed Art Studios: In this workshop, accompanied by visual artists Mustafa Sener and Susan Kooi, we take on the challenge to imagine what people make in the future. We will clay our only collection of archeofuturistic sculptures, with DAS self-supporting clay, so that everyone can take his or her sculpture with them.
This creates an accessible opportunity to get in touch with the artist in question. After each workshop, a guided tour of FUTUREARCHEOLOGY and a tasting of healthy homemade pizzas will be offered.
Breed Art is a contemporary art foundation devoted to an intense cultural activity of exhibitions and events programming focused on the presentation of prominent Dutch and international artists who stand out for their commitment to research, originality of expressive media and innovative attitude towards artistic production, installation and performance.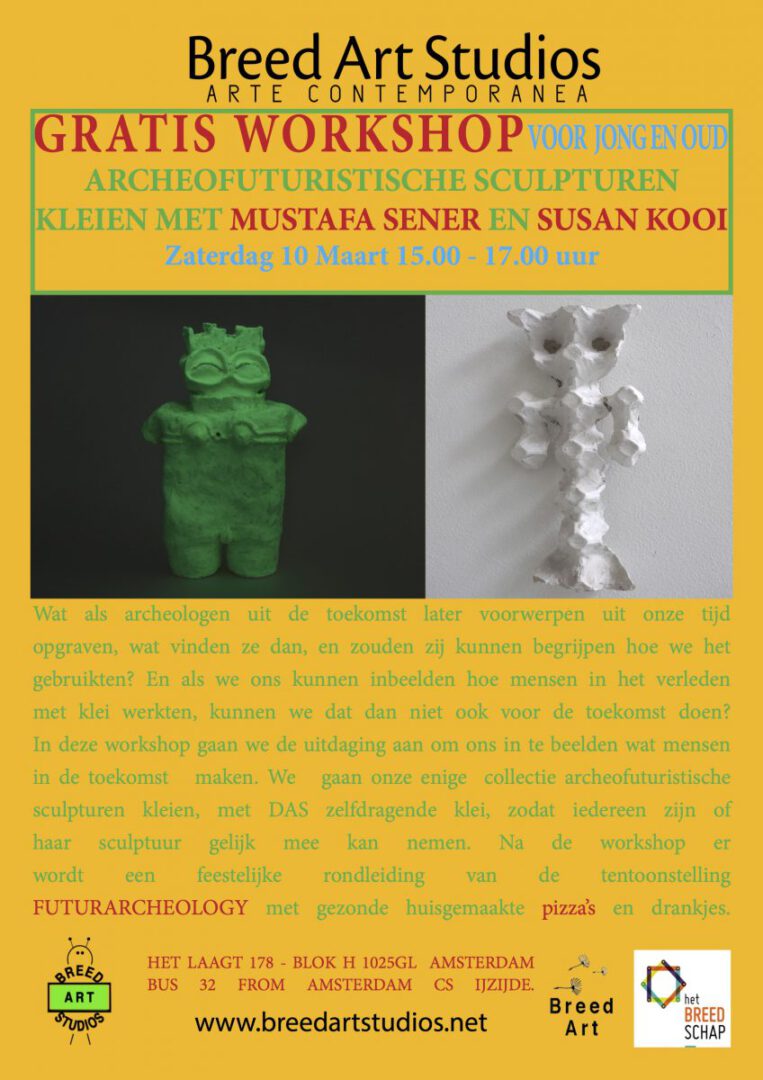 2. 10 maart: Workshop "Archeofuturistische sculpturen kleien met Mustafa en Susan" vindt plaats van 15.00 tot 17.00 uur in de huiskamer van Breed Art Studios: In deze workshop, begeleid door beeldend kunstenaars Mustafa Sener en Susan Kooi, gaan we de uitdaging aan om ons in te beelden wat mensen in de toekomst maken. We gaan onze enige collectie archeofuturistische sculpturen kleien, met DAS zelfdragende klei, zodat iedereen zijn of haar sculptuur gelijk mee kan nemen.
Dit vormt een laagdrempelige gelegenheid, om met de kunstenaar in kwestie in contact te komen. Na elke workshop wordt een rondleiding van FUTURARCHEOLOGY en een proeverij van gezonde zelfgemaakte pizza's aangeboden.
Breed Art is een stichting voor hedendaagse kunst, gewijd aan een intens programma van culturele activiteiten: tentoonstellingen en evenementen, gericht op de presentatie van prominente Nederlandse en internationale kunstenaars die zich onderscheiden door de inzet waarmee ze hun onderzoek doen, een origineel gebruik van media en een innovatieve houding ten opzichte van artistieke productie, installatie en performance. 
Photos Luca Rezzolla
Photos Franco Cavuoto | Olga Tsjeremnych
FUTURARCHEOLOGY
OPENING
Photos & video Luca Rezzolla