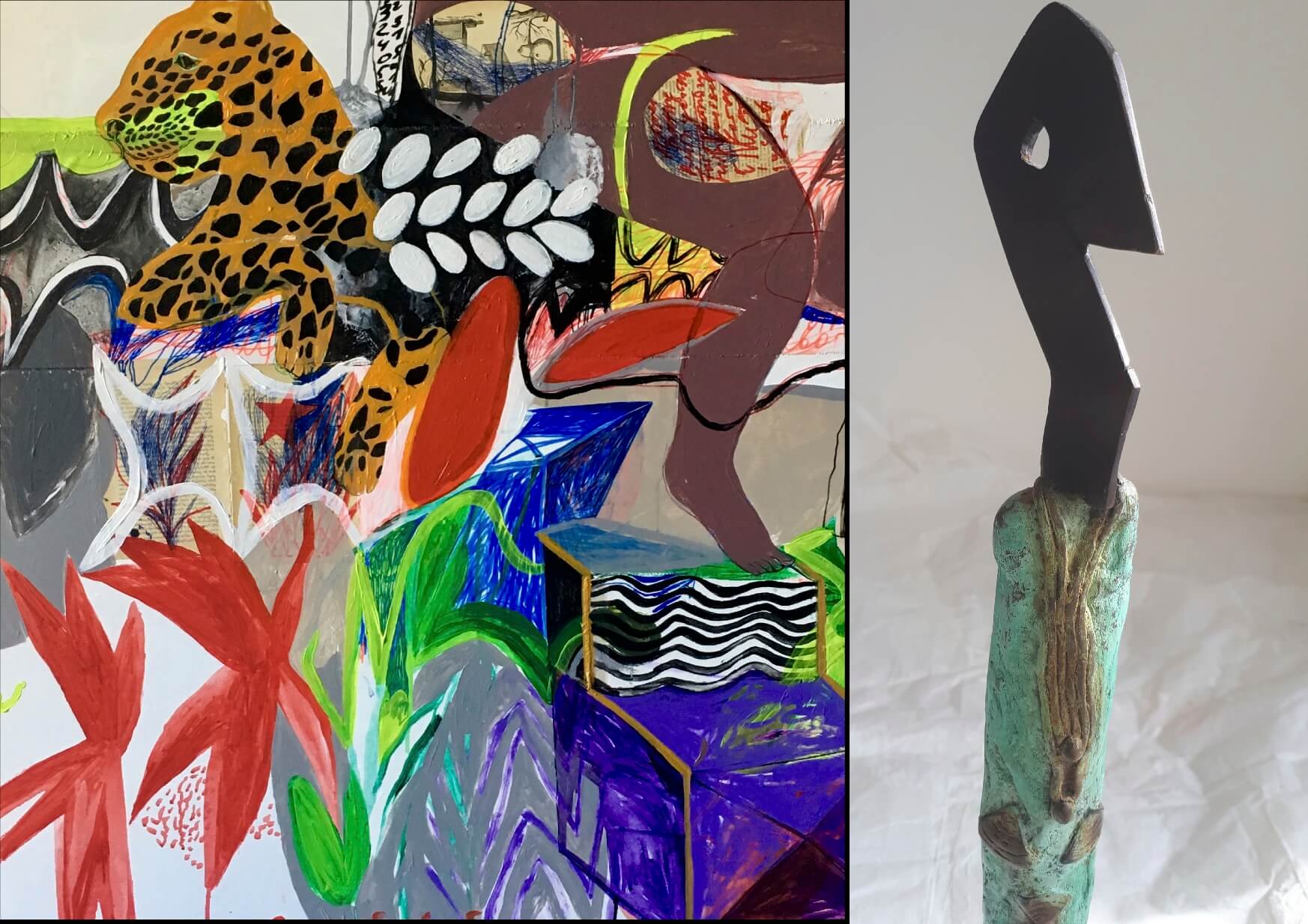 RUSUDAN KHIZANISHVILI (GE),
PAPA ADAMA (BF/NL)
IMAGINARY WORLD
October 21 – December 2 2017


OPENING


Saturday October 21 2017
5pm – 9pm
Rusudan Khizanishvili lives and works in Tbilisi, Georgia.
Her confident use of color combined with a palpable and often sensuous handling of oil paint demonstrates a maturity that proved her interesting to many galleries and residences across the world. Recently, she was chosen by Okwui Enwezor to represent Georgia during the 2015 Venice Biennale.
About her work Rusudan says "I create different layers in my paintings using images of animals as a symbolic link between cultures, countries and identities.They form a reflection of a past life in the present." For the first time in Amsterdam a large number of her paintings are exhibited in combination with the special sculptures of Papa Adama, Amsterdam based artist (born in Ouagadougou, Burkina Faso).
Papa Adama began his career as an autodidact. From 1998 to 2001 he was a student and assistant of Ali Nikiema, and specialized in bronze sculptures at the National Center For Artisanal Arts in Ouagadougou. In 2003 he moved to the Netherlands, where he graduated from the Rietveld Academy in 2007. His work talks about humanity. He creates imaginary worlds that correspond to the world he lives in. He observes the movement and emotions of life by taking the image and colour of the people and surroundings that he sees and hears.
Two different imaginary worlds, two different cultures come together in this special exhibition.
Rusudan Khizanishvili woont en werkt in Tbilisi, Georgië. Haar expressieve kleurgebruik, gecombineerd met een tastbare en vaak sensuele behandeling van de verf, toont een volwassenheid aan, die door de professionele kunstwereld wordt opgemerkt. Recent werd zij door Okwui Enwezor uitgekozen om Georgië te vertegenwoordigen tijdens de Biënnale van Venetië. Zelf zegt Rusudan over haar werk o.a.: "Ik creëer verschillende lagen in mijn schilderijen door b.v. de afbeeldingen van dieren te gebruiken als een symbolische verbinding tussen culturen, landen en identiteiten. Zij vormen de afspiegeling van een vorig leven op het heden." Voor het eerst in Amsterdam wordt een groot aantal van haar schilderijen tentoongesteld in combinatie met de bijzondere sculpturen van Papa Adama, Amsterdamse kunstenaar (geboren in Ouagadougou, Burkina Faso).
Papa Adama startte zijn carrière als autodidact. Van 1998 tot 2001 was hij student en assistent van Ali Nikiema en specialiseerde hij zich in bronzen sculpturen bij het Centre National Artisanal d'Art in Ouagadougou. In 2003 verhuisde hij naar Nederland, waar hij in 2007 aan de Rietveld Academie afstudeerde. Zijn werk gaat over over menselijkheid. Hij creëert denkbeeldige werelden, die corresponderen met de wereld waarin hij leeft. Hij observeert de beweging binnen en de emoties van het leven en vertaalt die in beelden en kleuren van mensen en hun omgeving.
Twee verschillende denkbeeldige werelden, twee verschillende culturen komen samen in deze bijzondere tentoonstelling.
Curator Luca Rezzolla
Photos Luca Rezzolla