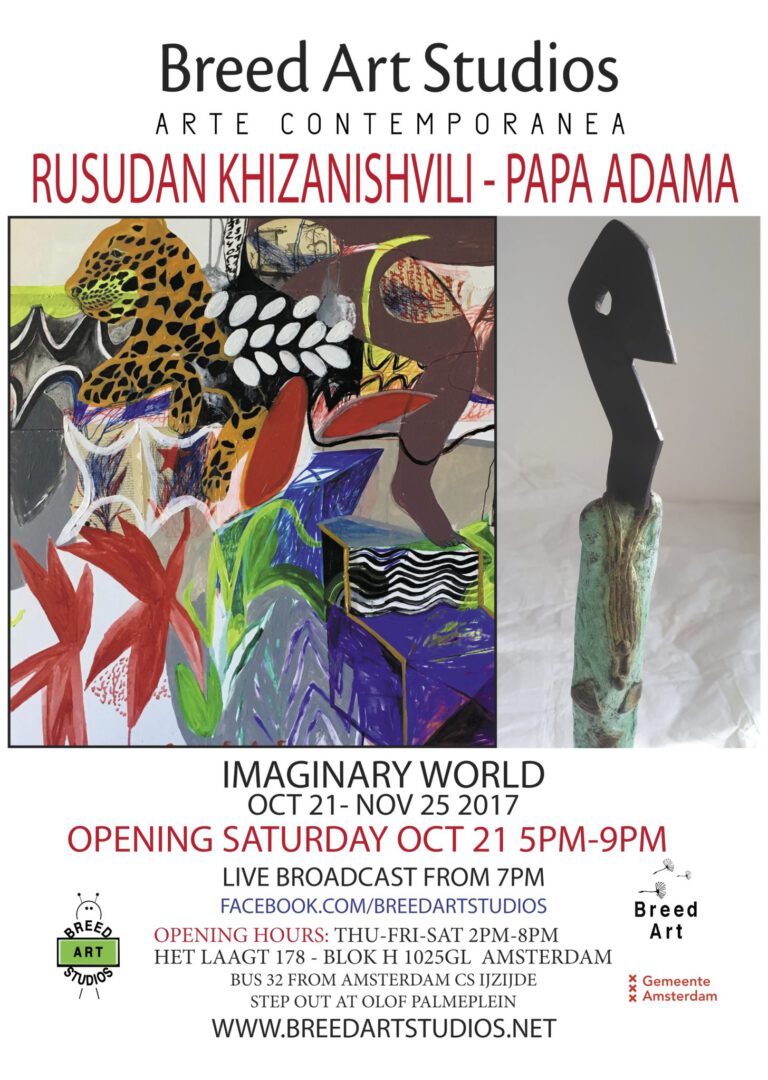 RUSUDAN KHIZANISHVILI, PAPA ADAMA
IMAGINARY WORLD
21 October – 2 December 2017
Opening Exhibition



Saturday October 21 2017
5 pm – 9 pm
Rusudan Khizanishvili
lives and works in Tbilisi, Georgia.
Her confident use of color combined with a palpable and often sensuous handling of oil paint demonstrates a maturity that proved her interesting to many galleries and residences across the world. Recently, she was chosen by Okwui Enwezor to represent Georgia during the 2015 Venice Biennale. About her work Rusudan says "I create different layers in my paintings using images of animals as a symbolic link between cultures, countries and identities.They form a reflection of a past life in the present." For the first time in Amsterdam a large number of her paintings are exhibited in combination with the special sculptures of Papa Adama, Amsterdam based artist (born in Ouagadougou, Burkina Faso).
Photos Luca Rezzolla
Papa Adama
began his career as an autodidact. From 1998 to 2001 he was a student and assistant of Ali Nikiema, and specialized in bronze sculptures at the National Center For Artisanal Arts in Ouagadougou. In 2003 he moved to the Netherlands, where he graduated from the Rietveld Academy in 2007. His work talks about humanity. He creates imaginary worlds that correspond to the world he lives in. He observes the movement and emotions of life by taking the image and colour of the people and surroundings that he sees and hears.
Two different imaginary worlds, two different cultures come together in this special exhibition.

Curator Luca Rezzolla