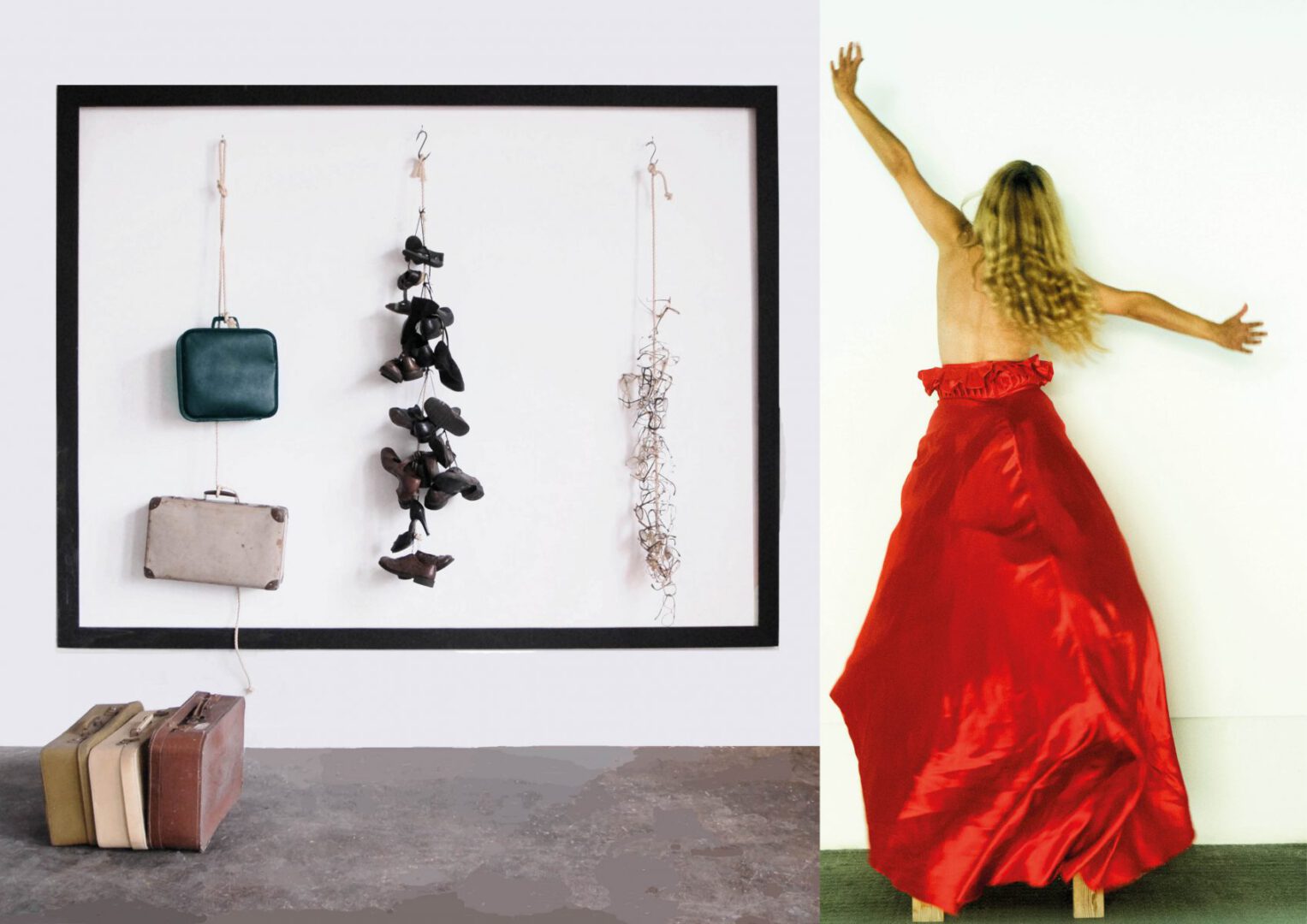 Breed Art Foundation presents
Theo van Keulen (NL) | Marilena Vita (IT)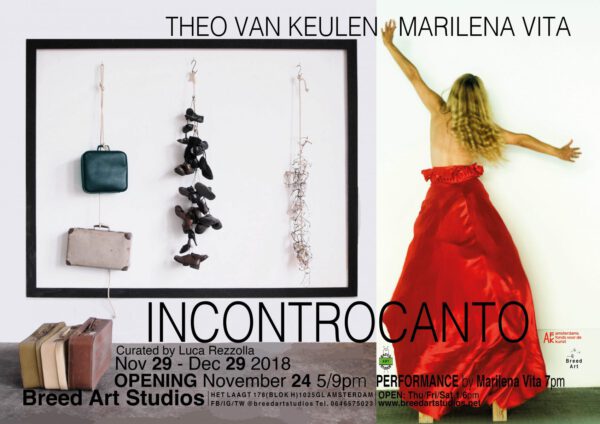 INCONTROCANTO
Nov 24 | Dec 29
Breed Art Studios, Het Laagt 1025GL Amsterdam
curated by Luca Rezzolla
Opening Saturday November 24 5/9 pm
Performance Il mio volo (my flight) by Marilena Vita 7 pm
Open
Thu – fri – sat 1/6 pm
INCONTROCANTO is based on two narrations
charachterised by a common research around the poetics of matter (organic and not).The installation "Disappearance" (1991) by Theo Van Keulen interacts with the performance "My Flight" by Marilena Vita in a reflection on the reality around the limit of the human.  The unique PERFORMANCE "My flight" by Marilena Vita, scheduled at 19.00 will be videotaped and will then become part of the exhibition. During the Opening scheduled on Saturday 24 November  "Stilleven is funest"(Still life is fatal)", a video portrait/interview about Theo van Keulen will be shown for the first time.
the show, curated by Luca Rezzolla, will be on display from november 24 to december 29 2018.
INCONTROCANTO is supported by the AFK (Amsterdam Fund for the Arts).
Photos Luca Rezzolla
Theo van Keulen, Nuenen (The Netherlands) says:
'The work that I show in Breed Art Studios has a very loaded subject, it is about totalitarian regimes of oppression and occupation. It is about the sudden disappearance of people who have been arrested and imprisoned behind barbed wire. Usually for political and religious reasons. There are 28 small paintings on two panels, there is the story of the prisoner, of hunger, humiliation and torture, but despite all the misery they have a glimmer of hope at the sight of a bird and flower. The installation "Disappearance" shows what remains of the disappeared prisoners, suitcases, shoes and glasses.'
More info on > www.theovankeulen.nl
Opening and Performance 'Il mio volo' by Marilena Vita
Photos Attilio Brancaccio
Marilena Vita, Siracusa (Italy):
'My flight', a performance by Marilena Vita.
Human being can never reach a divine condition if he isn't able to fly.
Icarus, despite his father's warnings not to approach the sun, seeks his own flight. Even though it is brief, it carries all the push for life itself. "The greatest tragedy for anybody arrives when you never experience the light while burning " says Oscar Wilde.
Flight is the experience of life itself, journey is perdition. We possess a body but we are not the body. The inhabited body which, likely an instrument, reflects our soul. That's what allows us to be in relation with the other human beings.
Black silhouette, reflection of matter: that's the sun's burning heat which at the same time gives light. When I follow my vision's image, I penetrate my true essence in all its depth. That's thanks to those wings that I do not possess and which can never be devoured by fire.
I reflect myself in what I am, to leave a trace.
Between beauty and truth.
The body as an archetype that can not be misunderstood. It moves in a reality theater, it is part of life itself.
Real, unreal, fantastic and authentic.'
More info on > www.marilenavita.com


INCONTROCANTO meets another voice:
Isidoor Wens
Saamakka Lecture and Hug Talk @ tea Performance
December 16 4 pm/ 6 pm