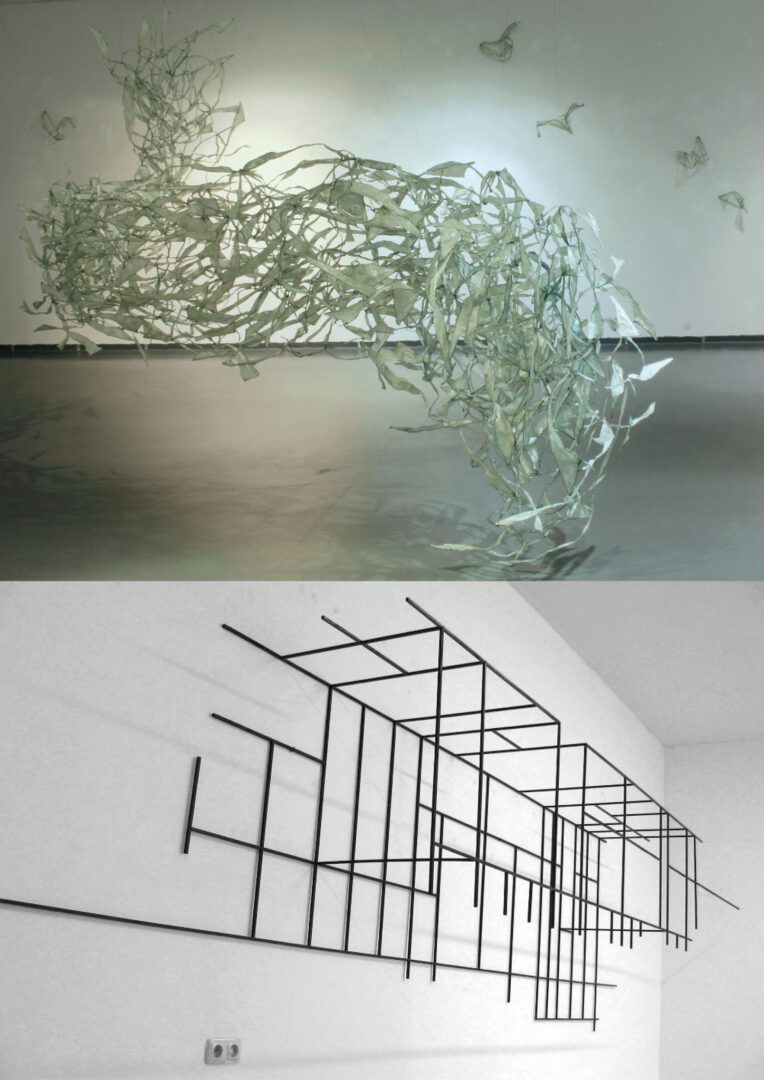 Stichting Breed Art presents
Sabine Jacobs (DE) | Gerda Kruimer (NL)
Form On-Line 01.06 – 13.07.2019
Curated by Kitty Doomernik & Luca Rezzolla.
OPENING
Saturday June 1st 2019
5/9pm
Performance by Silvia Terribili 7pm
EN
Jacobs and Kruimer show both a spectacular application of their creative tools.
Besides this, more or less traditional control, they are able to express their artistic vision clearly.
Though sharing a linear, constructive and spatial common ground, Kruimer mainly uses the straight line, while Jacobs is employing more amorphous forms of growth. This contradiction promises to provide an interesting dialogue in these 'interesting times'.
The complex paper constructions of Sabine Jacobs have a fragile spatiality and radiate an almost fairy-tale beauty. But a closer look reveals strong, earthly forms that originated from a precise observation of the plant world. The basic structure of the sculpture is built by bending and tying metal wire, which is then covered with transparent, oil-based paint treated, tissue paper. During the working process, Sabine Jacobs appropriates nature without literally depicting it. Rather, she produces nature itself, which invites associations.
More on >https://jacobs-sabine.de
Gerda Kruimer applies "the line" in her autonomous drawings in different ways and from different starting points: the urban landscape, certain native architecture, mathematical projections, random patterns. Lines become different grids that are placed in layers on top of each other. Fascinated by the countless lines that make unspoken and unseen connections in the spatial whole, she usually works in series.
The emphasis in her formal language is constantly shifting because, partly due to her travels, new sources of inspiration are constantly emerging.
More on>http://gerdakruimer.nl
NL
Zowel Jacobs als Kruimer hebben een spectaculaire toepassing van hun artistieke hulpmiddelen. Maar naast deze, min of meer ambachtelijke beheersing weten zij hun visie als kunstenaar helder te verbeelden.
Ofschoon ze allebei zowel lineair, constructief en ruimtelijk bezig zijn, gebruikt Kruimer overwegend de rechte lijn, terwijl Jacobs meer amorfe groeivormen utiliseert. Deze tegenstelling belooft een interessante dialoog op te leveren in deze 'interessante tijden'.
De complexe papierconstructies van Sabine Jacobs hebben een fragiele ruimtelijkheid en stralen een bijna sprookjesachtige schoonheid uit. Maar bij nadere beschouwing zijn het sterke, aardse vormen, die hun oorsprong vinden in precieze observatie van de plantenwereld.
Door het buigen en knopen van metaaldraad wordt de basisstructuur van de sculptuur gebouwd, die daarna met transparant, met olieglazuurverf behandeld vloeipapier, omspannen wordt. Tijdens het werkproces eigent Sabine Jacobs zich de natuur toe, zonder die letterlijk af te beelden. Zij brengt veeleer zelf natuur voort, hetgeen tot associaties uitnodigt.
Meer op >https://jacobs-sabine.de
Gerda Kruimer past "de lijn" in haar autonome tekeningen op verschillende manieren en vanuit verschillende uitgangspunten toe: het stedelijk landschap, bepaalde inheemse architectuur, wiskundige projecties, willekeurige patronen. Lijnen worden rasters die in verschillende lagen over elkaar geplaatst worden. Gefascineerd door de ontelbare lijnen die onuitgesproken en onzichtbare verbindingen maken in het ruimtelijke geheel, werkt zij meestal in series. De nadruk in haar vormentaal verschuift steeds, omdat zich, mede door haar reizen, steeds nieuwe inspiratiebronnen aandienen.
Meer op>http://gerdakruimer.nl
OPENING
PERFORMANCE by Silvia Terribili
https://www.facebook.com/BreedArtStudios/videos/2239045316175736/
Photos & video Luca Rezzolla