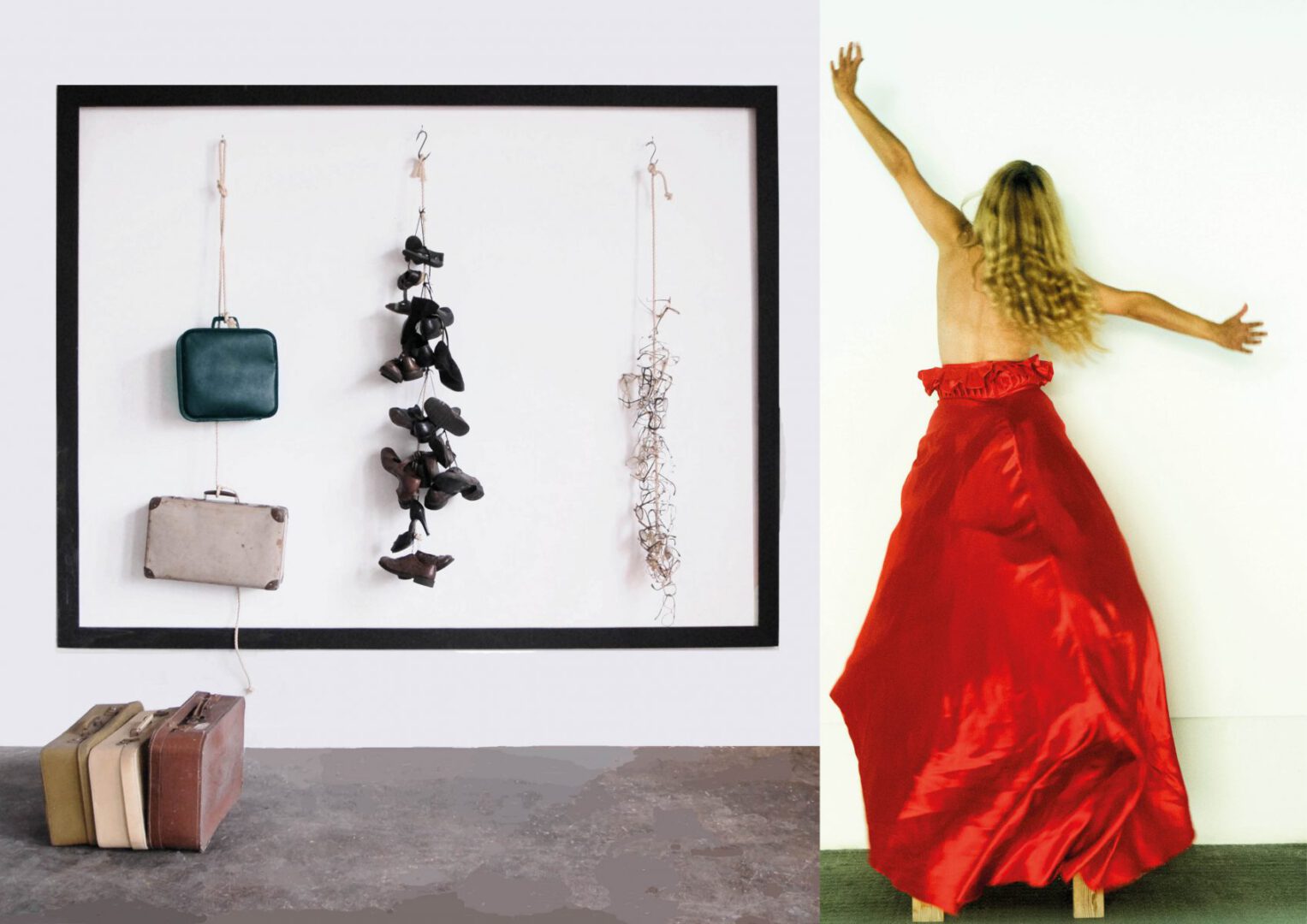 Theo van Keulen | Marilena Vita           
INCONTROCANTO
Nov 24 | Dec 29
curated by Luca Rezzolla
OPENING

Saturday November 24  5/9pm


PERFORMANCE

by Marilena Vita  7pm
Breed Art Studios Het Laagt 1025GL Amsterdam
OPEN

THU – FRI – SAT 1/6pm
December 16 4pm/ 6pm
INCONTROCANTO meets another voice: 
Isidoor Wens
Saamakka
Lecture

& Hug Talk @ tea

Performance

INCONTROCANTO (photos Luca Rezzolla)

Opening INCONTROCANTO and Performance 'Il mio volo' by Marilena Vita (Photos Attilio Brancaccio)
INCONTROCANTO is based on two narrations charachterised by a common research around the poetics of matter (organic and not).
The installation "Disappearance" (1991) by Theo Van Keulen interacts with the performance "My Flight" by Marilena Vita in a reflection on the reality around the limit of the human.The unique PERFORMANCE "My flight" by Marilena Vita, scheduled at 19.00 will be videotaped and will then become part of the exhibition.During the OPENING, scheduled on Saturday 24 November 2018 from 5 to 9 pm "Stilleven is funest (Still life is fatal)", a video portrait/interview about Theo van Keulen will be shown for the first time.                                 INCONTROCANTO, curated by Luca Rezzolla, will be on display from November 29th to December 29th 2018.                 INCONTROCANTO is supported by the AFK (Amsterdam Fund for the Arts).
Theo van Keulen, Nuenen (The Netherlands) says: 'The work that I show in Breed Art Studios has a very loaded subject, it is about totalitarian regimes of oppression and occupation. It is about the sudden disappearance of people who have been arrested and imprisoned behind barbed wire. Usually for political and religious reasons. There are 28 small paintings on two panels, there is the story of the prisoner, of hunger, humiliation and torture, but despite all the misery they have a glimmer of hope at the sight of a bird and flower. The installation "Disappearance" shows what remains of the disappeared prisoners, suitcases, shoes and glasses.'
More info on > www.theovankeulen.nl
Marilena Vita, Siracusa (Italy):
'My flight, a performance by Marilena Vita.
Human being can never reach a divine condition if he isn't able to fly.
Icarus, despite his father's warnings not to approach the sun, seeks his own flight. Even though it is brief, it carries all the push for life itself. "The greatest tragedy for anybody arrives when you never experience the light while burning " says Oscar Wilde.
Flight is the experience of life itself, journey is perdition. We possess a body but we are not the body. The inhabited body which, likely an instrument, reflects our soul. That's what allows us to be in relation with the other human beings.
Black silhouette, reflection of matter: that's the sun's burning heat which at the same time gives light. When I follow my vision's image, I penetrate my true essence in all its depth. That's thanks to those wings that I do not possess and which can never be devoured by fire.
I reflect myself in what I am, to leave a trace.
Between beauty and truth.
The body as an archetype that can not be misunderstood. It moves in a reality theater, it is part of life itself.
Real, unreal, fantastic and authentic.'
More info on > www.marilenavita.com
INCONTROCANTO is gebaseerd op de verhalen van twee kunstenaars, welke gekenmerkt worden door het gemeenschappelijk onderzoek rond de poëtica van de materie, organisch zowel als anorganisch.
De installatie "Verdwijning" (1991) van Theo Van Keulen en de performance "My Flight" van Marilena Vita vormen een wisselwerking via hun reflectie op de realiteit rond de menselijke limitatie.  De eenmalige PERFORMANCE "Mijn vlucht" door Marilena Vita, gepland om 19.00 uur, wordt op video opgenomen en vormt daarna een onderdeel van de tentoonstelling.
INCONTROCANTO, samengesteld door Luca Rezzolla, is te zien van 29 november tot en met 29 december 2018. Tijdens de OPENING, gepland op zaterdag 24 november 2018 van 17.00 tot 21.00 uur "Stilleven is funest", een video portret / interview over Theo van Keulen, zal voor het eerst te zien zijn.                                                                                                                                                                                        INCONTROCANTO is mogelijk gemaakt door het AFK (Amsterdams Fonds voor de Kunst).
Theo van Keulen (Nuenen – Nederland) zegt het volgende:
"Het werk dat ik bij Breed Art Studios laat zien heeft een zeer beladen onderwerp:
het gaat over totalitaire regimes van onderdrukking en bezetting. Het gaat over het plotseling verdwijnen van mensen, die zijn opgepakt en achter prikkeldraad worden opgesloten. Meestal om politieke en/of religieuze redenen. Op twee panelen zijn samen 28 kleine schilderijen gemonteerd. Daar staat het verhaal van de gevangenen op, van honger, vernedering en marteling, maar ondanks alle ellende hebben ze nog een sprankje hoop bij het zien van een vogeltje en bloemetje. De installatie "Verdwijning" laat zien wat er achter blijft van de verdwenen gevangenen: koffers, schoenen en brillen."
Vind meer op > www.theovankeulen.nl
Marilena Vita (Siracusa – Italië )
"Mijn vlucht" een performance:
De mens kan nooit een goddelijke toestand bereiken als hij niet in staat is om te vliegen.
Icarus, ondanks waarschuwingen van zijn vader, om de zon niet te naderen, zoekt zijn eigen vlucht. Het is allemaal kort, het draagt alle druk voor het leven zelf. "De grootste tragedie voor wie dan ook komt wanneer je nooit het licht ervaart tijdens het branden", zegt Oscar Wilde.
Vlucht is de ervaring van het leven zelf, reis is een verdoemenis. We bezitten een lichaam maar we zijn niet het lichaam. Het bewoonde lichaam als instrument, dat onze ziel weerspiegelt in relatie tot andere menselijke wezens. Zwart silhouet, reflectie van materie: dat is de zon. Wanneer ik de verbeelding van mijn visie volg, dring ik door tot mijn ware essentie in al zijn diepte. Ik bezit niet en ik kan niet worden verslonden door vuur.
Ik reflecteer mezelf in wat ik ben, om een spoor achter te laten.
Tussen schoonheid en waarheid. Het lichaam als een archetype dat niet verkeerd begrepen kan worden. Het maakt deel uit van het leven zelf.
Echt, onecht, fantastisch en authentiek.
Vind meer op > www.marilenavita.com
INCONTROCANTO si struttura su due narrazioni caratterizzate da una comune ricerca intorno alla poetica della materia (organica e non). L'installazione "Scomparsa" (1991) di Theo Van Keulen interagisce con la performance "Il mio volo" di Marilena Vita in una riflessione sulla realtà intorno al limite dell'umano. La PERFORMANCE unica "Il mio volo" di Marilena Vita, in programma alle 19.00 sarà videoregistrata e diverrà poi parte integrante della mostra. La mostra, curata da Luca Rezzolla, sarà visibile dal 29 novembre al 29 dicembre 2018. Durante l'INAUGURAZIONE, prevista Sabato 24 novembre 2018 dalle 17 alle 21 sarà inoltre presentato per la prima volta il video ritratto / intervista su Theo van Keulen "Stilleven is funest (La vita tranquilla è fatale)".                                                                   INCONTROCANTO è possibile grazie al contributo di AFK (Fondo per le Arti di Amsterdam).
Theo van keulen, Nuenen (Paesi Bassi):
"Il lavoro che espongo a BreedArt Studios ha un argomento molto carico, riguarda i regimi totalitari di oppressione e occupazione. Riguarda l'improvvisa scomparsa di persone che sono state arrestate e imprigionate dietro il filo spinato. Solitamente per ragioni politiche e religiose. Su due pannelli sono montati 28 piccoli dipinti. C'è la storia del prigioniero, della fame, dell'umiliazione e della tortura, ma nonostante tutta la miseria hanno un barlume di speranza quando vedono un uccello e un fiore.
L'installazione "Scomparsa" mostra ciò che resta dei prigionieri scomparsi, valigie, scarpe e occhiali."
Più info su> www.theovankeulen.nl
Marilena Vita, Siracusa:
"IL MIO VOLO, performance di Marilena Vita.
L'essere umano senza il volo non potrà mai giungere a una condizione divina.
Icaro, nonostante gli avvertimenti del padre di non avvicinarsi al sole, ricerca il proprio volo, che anche se breve, ha dentro tutto il fervore della vita stessa, e come scrive Oscar Wilde "La più grande tragedia di tutti è non provare mai la luce che brucia".
Il volo è l'esperienza della vita stessa, il viaggio la perdizione. Noi possediamo un corpo ma non siamo il corpo. Il corpo abitato, e come uno strumento riflette il nostro spirito. È ciò che ci permette di comunicare con gli altri esseri umani.
"Sagoma nera, riflesso della materia, è il calore del sole che brucia ma che illumina nello stesso tempo". Quando perseguo l'immagine della mia visione, penetro nel profondo della mia vera essenza, attraverso quelle ali che non possiedo e che non potranno essere mai divorate dal fuoco.
Mi rifletto in ciò che sono, per lasciare traccia.
Tra bellezza e verità.
Il corpo un archetipo che non può essere frainteso, si muove in un teatro del reale ed è parte della vita stessa.
Reale, irreale, fantastica e autentica."                                                                                                                                                                                Più info su>www.marilenavita.com