Group Exhibition

with dutch and international artists:

September 02 – October 14 2017
Julia Winter
Mario Consiglio
Charlotte Mouwens
Frits Heimans
Jean Philippe Paumier
Christian Zanotto
Kitty Doomernik
Marta Colpani
Daniëlle Hooijmans
Isidoor Wens
Marielle van den Bergh
Mels Dees
Theo van Keulen
Mustafa Sener
Attilio Brancaccio
Curated by Luca Rezzolla and Kitty Doomernik
Opening

Exhibition

September 2 5 pm – 9 pm

Live broadcasted performance by Marta Colpani

RestArt 2017
Photos Luca Rezzolla
Workshop with recycled material and Finissage October 14 2017
Saturday 14 October is the festive closing of the RestArt2017 exhibition.
There will also be a Workshop with recycled material that day.
This is leftover material, which can be used for all sorts of things – monsters can be made from it, or beautiful mobiles. Furthermore, drinks and pizza until 20:00!
Workshop with leftover materials
Where: at Breed Art Studios on the sidewalk.
Het Laagt 178, Blok H, 1025 GL Amsterdam (Amsterdam North).
For: everyone, young and old. You don't even need to sign up – just come.
The workshop is free and you are welcome between 12:00 and 18:00.
It will be given by artists Mariëlle van den Bergh and Mels Dees.
Finissage RestArt2017 17:00 – 20:00
Op zaterdag 14 oktober is de feestelijke afsluiting van de tentoonstelling RestArt2017.
Ook zal er die dag een Workshop met gerecycled materiaal zijn.
Dat is restmateriaal, waar je nog van alles mee kunt doen – monsters kun je er van maken, of prachtige mobiles. Verder drankjes en pizza tot 20.00 uur!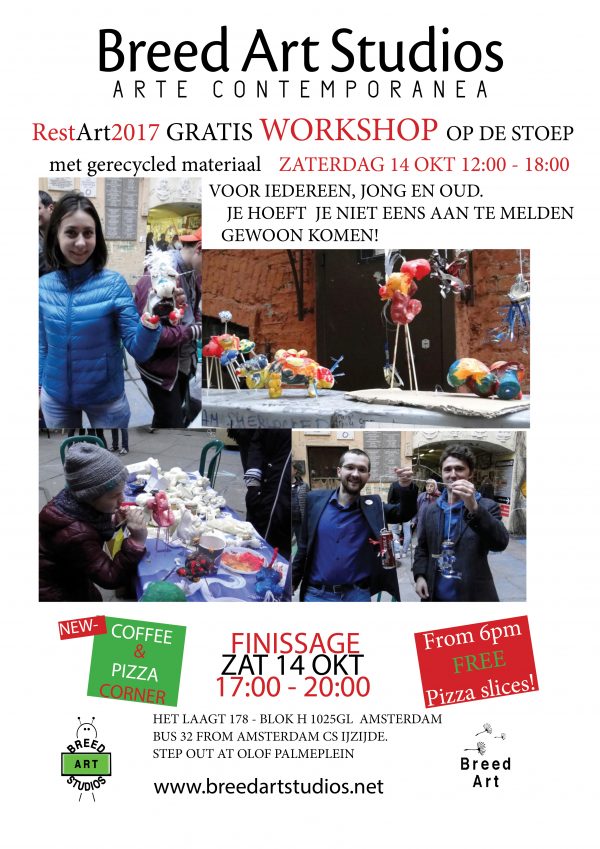 Workshop met restmateriaal
Waar: bij Breed Art Studios op de stoep.
Het Laagt 178, Blok H, 1025 GL Amsterdam (Amsterdam Noord).
Voor wie: voor iedereen, jong en oud. Je hoeft je niet eens aan te melden – gewoon komen.
De workshop is gratis en je bent van harte welkom tussen 12:00 en 18:00.
Hij wordt gegeven door de kunstenaars Mariëlle van den Bergh en Mels Dees.
Finissage RestArt2017 17.00 – 20.00 uur
Photos Mariëlle van den Bergh | Mels Dees | Luca Rezzolla | Olga Tsjeremnych