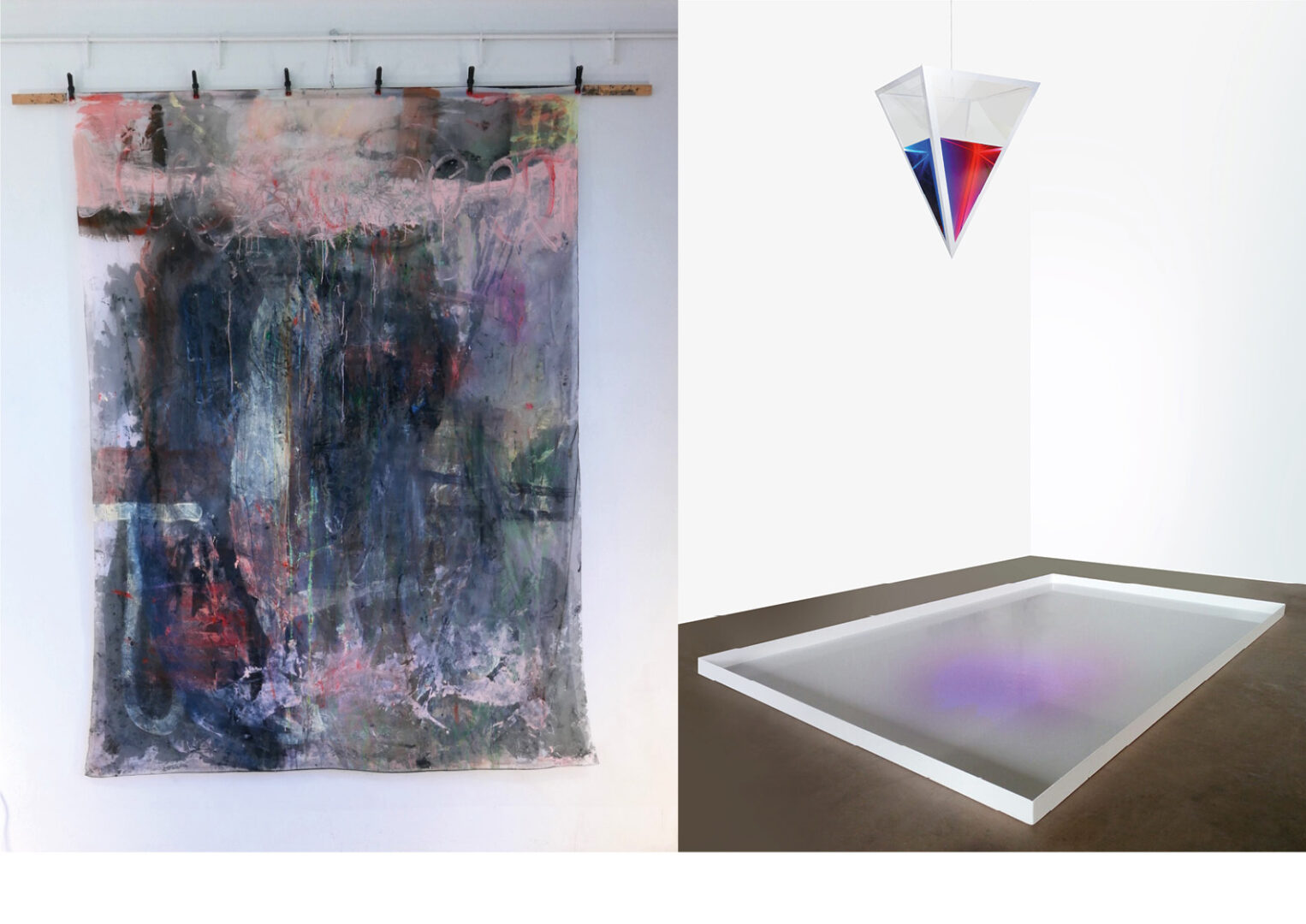 Breed Art Foundation presents:
Roland Berning | 

David Lascaris
FLUSSOFLUIDO
Feb 09 | Mar 16 2019
curated by Luca Rezzolla
OPENING 

Saturday Februari 9  5/9pm
Live Act by Roland Berning 7pm
Breed Art Studios Het Laagt 178 BLOK H 1025GL Amsterdam
OPEN

 THU – FRI – SAT 1/6pm

FLUSSOFLUIDO
EN
In FLUSSOFLUIDO (Fluid Flow) a flow of fluid colours and shapes emerges from the dialogue of two artists who, while speaking different languages, manage to communicate around the concept of freedom in the context of space and time.
Roland Berning lives and works in Amsterdam. In his last statement he defines himself as a visual artist who works from the perspective of painting. Large unpolished polyester fabrics become for him large 'Screens' where and with he can work. The surface is flexible, foldable and can also be used as a tool (brush, silk screen) to paint itself.
The paintings are stacks of events over time, not a sequence like in traditional multimedia screens, but a continuation in current events, immanent.
'I see painting as a modern discipline, as a place where, in full freedom, regardless of limitations and software dependency, one can respond to the challenges of contemporary artistic production.
The preservation of freedom for the sake of that freedom is, in my opinion, essential for the realisation of innovations, outside of all systems, and as such is relevant for artistic production.
While multimedia is in a twilight zone of manipulation and opacity, I try to show my "screens" as open terrain with full visibility of the processes. For me, painting can work as a domain of freedom within the discourse on modern media.
The use of pictorial elements is a strategy of freedom and not a representation of freedom. In fact, the content is "empty" to give space to freedom as a mentality. The works represent the product of the coupling of transparent resources and independent and free creative decisions.
Young Italian architect, photographer, visionary and eclectic artist, David Lascaris lives and works in Amsterdam. His research starts from the concept of space, as a physical and existential place and develops through the use of different media.
His 'Apneas' are boxes of plexiglas containing layers of underwater photographs printed on transparent acetate sheets.
The superimposition of the layers breaks down and blurs the image that seems to melt in a coloured liquid like inside an aquarium.
The water blends, binds, links, licks and devours, it's a true adhesive that has the power to unite or change other elements. It is the primordial fluid from which differentiate and evolve, a symbolic element of rebirth and transformation. In 'Fluido di genere' (Fluid of gender) the box becomes an inverted pyramid divided in half and filled with pink liquid, on the one hand, and blue liquid, on the other, a metaphor of our preconceptions about gender identity.
The pyramid is suspended above an aluminium basin filled with water. From the tip of the pyramid the colour drips slowly producing unpredictable effects until emptying. What was previously perfectly defined and distinct becomes indeterminate and unexpected. The duality of antithetical concepts springs from the limitations imposed by the human vision that tends to define boundaries to explain a reality that is fluid.
NL 
In FLUSSOFLUIDO (vloeibare stroom) ontstaat een stroom van kleuren en vloeiende vormen uit de dialoog tussen twee kunstenaars, die ondanks dat ze verschillende talen spreken nog kunnen communiceren met elkaar rond het concept van vrijheid binnen het kader van ruimte en tijd.
Roland Berning woont en werkt in Amsterdam. In zijn laatste verklaring definieert hij zichzelf als een beeldend kunstenaar, die vanuit het perspectief van de schilderkunst werkt. De grote, niet opgespannen polyester doeken, werken voor hem als grote screens waar hij op en ook MEE kan werken. Het oppervlak is plooibaar, (op)vouwbaar en ook te gebruiken als instrument (kwast, zeefdrukraam) om zichzelf te schilderen. De schilderingen zijn stapelingen van gebeurtenissen in de tijd, geen opeenvolging zoals bij de traditionele screens van de multimedia, maar een voortduren in de actualiteit, immanent. Ik zie de schilderkunst als een moderne discipline, als een plek waar met volledige vrijheid – los van beperkingen en afhankelijkheid van software – gereageerd kan worden op de uitdagingen van hedendaagse artistieke productie. Het behoud van de vrijheid omwille van die vrijheid is volgens mij essentieel, om vernieuwingen te kunnen realiseren, buiten alle systemen om, en is als zodanig relevant voor de productie van kunst. Terwijl de multimedia verkeren in een twilight-zone van manipulatie en ondoorzichtigheid probeer ik mijn "screens" te tonen als open terrein met volledige transparantie van de processen. De schilderkunst kan voor mij zo functioneren als domein van vrijheid binnen het discours over moderne media. Het gebruik van de schilderkunstige elementen is voor mij een strategie van vrijheid en niet een representatie van vrijheid. Feitelijk zijn de werken inhoudelijk "leeg" om ruimte te geven aan vrijheid als mentaliteit. Als product van de koppeling van transparante middelen en creatieve onafhankelijke vrije beslissingen getuigen zij daarvan.
Jonge Italiaanse architect, fotograaf, visionaire en eclectische kunstenaar, David Lascaris woont en werkt in Amsterdam. Zijn onderzoek vertrekt vanuit het concept van ruimte, als een fysieke en existentiële plaatsen ontwikkelt zich door het gebruik van verschillende media. Zijn 'apneas' zijn dozen van plexiglas met lagen van onderwaterfoto's gedrukt op transparante vellen van acetaat. Het op elkaar plaatsen van de lagen breekt en vervaagt het beeld, dat lijkt te smelten in een gekleurde vloeistof zoals in een aquarium.
Het water mengt, bindt, verbindt, likt en verslindt, het is een echte lijm die de kracht heeft om andere elementen te verenigen of te veranderen.  Het is de oorspronkelijke vloeistof van waaruit differentiatie en evolutie ontstaat, een symbolisch element van opwekking en transformatie. In 'Fluido di genere' wordt de doos een omgekeerde piramide, in tweeën gedeeld en gevuld met roze vloeistof, enerzijds, en blauwe vloeistof, anderzijds, een metafoor van onze vooroordelen over genderidentiteit. De piramide hangt boven een aluminium bak, gevuld met water. Vanaf het puntje van de piramide druipt de kleur langzaam naar beneden en produceert onvoorspelbare effecten totdat de piramide leeg is. Wat eerder perfect gedefinieerd en onderscheiden was, wordt onbepaald en onverwacht. De dualiteit van antithetische concepten komt voort uit de beperkingen, opgelegd door de menselijke neiging grenzen te definiëren, om daarmee een realiteit uit te leggen, die in feite niet vast staat, is vloeibaar.
IT
In FLUSSOFLUIDO un flusso di colori e forme fluide fuoriesce dal dialogo di due artisti che pur parlando lingue diverse riescono a comunicare intorno al concetto di libertà nel contesto dello spazio e del tempo.
Roland Berning vive e lavora ad Amsterdam. Nel suo ultimo statement si definisce un artista visuale che lavora partendo dalla prospettiva della pittura. I tessuti di poliestere non stirati di grandi dimensioni diventano per lui grandi 'schermi' (screens) dove e con cuoi può lavorare. La superficie è flessibile, pieghevole e può essere utilizzata anche come strumento (pennello, quadro serigrafico) per dipingere se stessa. I dipinti sono pile di eventi nel tempo, non una sequenza come nei tradizionali schermi multimediali, ma una continuazione negli eventi attuali, immanente. 'Vedo la pittura come una disciplina moderna, come un luogo in cui, in piena libertà, indipendentemente dalle limitazioni e dalla dipendenza dal software, si può rispondere alle sfide della produzione artistica contemporanea. La conservazione della libertà per il bene di quella libertà è, a mio avviso, essenziale per poter realizzare innovazioni, al di fuori di tutti i sistemi, e in quanto tale è rilevante per la produzione artistica. Mentre il multimedia è in una zona crepuscolare di manipolazione e opacità, cerco di mostrare i miei "schermi" come terreno aperto con piena visibilità dei processi. Per me, la pittura può funzionare come simbolo di libertà all'interno del discorso sui media moderni. L'uso degli elementi pittorici è una strategia di libertà e non una rappresentazione della libertà. In effetti, il contenuto è "vuoto" per dare spazio alla libertà come mentalità. Le opere rappresentano il prodotto dell'accoppiamento di risorse trasparenti e decisioni creative indipendenti e libere.
Giovane architetto, fotografo, artista visionario ed eclettico, David Lascaris vive e lavora ad Amsterdam. La sua ricerca parte dal concetto di spazio, come luogo fisico ed esistenziale e si sviluppa attraverso l'utilizzo di diversi media. Le sue Apnee sono scatole di plexiglass contenenti layers di fotografie subacquee stampate su fogli trasparenti di acetato. La sovrapposizione dei layers scompone e sfoca l'immagine che sembra cosi' sciogliersi in un liquido colorato come all'interno di un acquario. L'acqua impasta, lega collega lambisce e divora, e' un vero collante che ha il potere di unire o modificare gli altri elementi, e' il fluido primordiale da cui differenziarsi ed evolversi, un elemento simbolico di rinascita e trasformazione. La scatola si trasforma e diviene in 'Fluido di genere' una piramide rovescia divisa a metà e riempita di liquido rosa, da una parte, e di liquido azzurro, dall'altra, metafora dei nostri preconcetti sull'identità di genere. La piramide è sospesa sopra una vasca bianca di alluminio riempita d'acqua. Dalla punta della piramide il colore sgocciola lentamente producendo effetti imprevedibili fino allo svuotamento. Cio' che prima era perfettamente definito e distinto diventa indeterminato ed inaspettato. La dualità di concetti antitetici scaturisce dalle limitazioni imposte dalla visione umana che tende a definire confini per spiegare una realtà che invece e' fluida.

Opening
Making of
https://www.facebook.com/BreedArtStudios/videos/320371375253467/