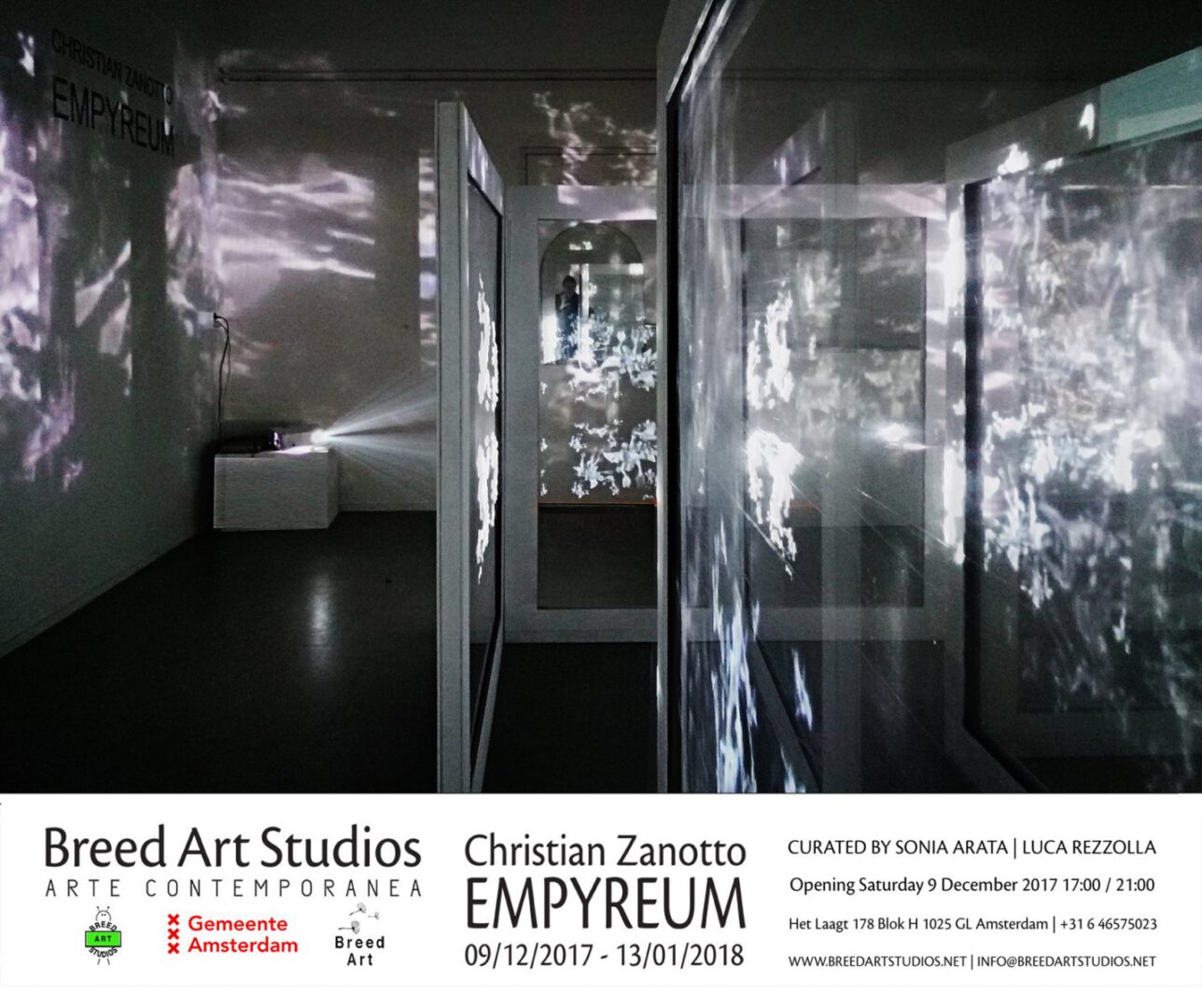 CHRISTIAN ZANOTTO (IT/NL)
EMPYREUM
December 9 – January 13 2018

OPENING


Saturday December 9 2017
5pm – 9pm
BREED ART FOUNDATION  presents
CHRISTIAN ZANOTTO  EMPYREUM
EXHIBITION: 9 DECEMBER 2017 – 13 JANUARY 2018
CURATORS: SONIA ARATA AND LUCA REZZOLLA
OPENING: SATURDAY 9 DECEMBER 2017 – 17:00 / 21:00
SOLO PERFORMANCE ON CELLO BY ALEKSANDRA KASPERA AT 19:00
LIVE BROADCAST AT 19:00 ON  facebook.com/breedartstudios>
ADDRESS: HET LAAGT 178, BLOK H – 1025 GL AMSTERDAM – NL Map >
Breed Art Foundation is pleased to present EMPYREUM, Christian Zanotto's solo show curated by Sonia Arata and Luca Rezzolla, which will open on Saturday 9 December 2017 from 17:00 to 21:00 at Breed Art Studios, Het Laagt 178, Amsterdam-North.
The exhibition, running till the 13th of January 2018, will transform the "white cube" of the exposition venue into an environmental holographic theater, scene of kaleidoscopic projections which will involve the space at 360 degrees. The visitors, free to move around, will be immersed in an aerial apnea in the vivid and suspended atmosphere of lights and colors.
The site-specific video installation EMPYREUM consists of 12 holographic projection screens: square linear modules, located in pairs in the room, capture and refract along unpredictable trajectories fluctuating digital entities, shaped and animated inside the virtual realm by Christian Zanotto. The weightless figures multiply in a sort of scaled empyrean that has descended into appearance and has been brought into existence by means of the luminous emanation of beamers, in a round dance of glimmers, reverberations, reflections and ethereal presences.
Candid geometric structurality and immateriality intersect in this contemporary vision of a numerical sky populated by a blanket of winged characters , shiny finned angels which appear to us in a choreography of hovering movements in a sphere devoid of gravity, a different and incorporeal dimensional plane that manifests.

Christian Zanotto, who since 2000 lives and works between Amsterdam and Venice, carries out a peculiar artistic investigation aimed to a technical and conceptual fusion of material and immaterial, of the universe of the virtual and that of tradition, exploring how they interface. The artist models intangible sculptures which he then translates into wall pieces on crystal panels or holographic sequences and installations, audio-visual works that confront the spectator with a context "other", adjacent, parallel and co-present with the one commonly perceived, a staging of multiple levels of reality.Christian Zanotto's C.V. >
Breed Art is a contemporary art foundation devoted to an intense cultural activity of exhibitions and events programming focused on the presentation of prominent Dutch and international artists who stand out for their commitment to research, originality of expressive media and innovative attitude towards artistic production, installation and performance.
Aleksandra Kaspera is born in 1984 in Riga (Latvia). Since 2015 Aleksandra plays in the Ensemble The String Soloists of the dutch violinist Lisa Jacobs in Amsterdam, regularly appearing on television, radio and in the most important halls in The Netherlands (such as Concertgebouw Amsterdam, Paleis Het Loo, Tivoli Vredenburg, De Harmonie Leeuwarden, Stadsgehoorzaal Leiden, Muziekgebouw Eindhoven), Germany and Italy. Aleksandra Kaspera – Brief C.V. >
STICHTING BREED ART  presenteert
CHRISTIAN ZANOTTO EMPYREUM
TENTOONSTELLING: 9 DECEMBER 2017 – 13 JANUARI 2018
CURATOREN: SONIA ARATA EN LUCA REZZOLLA
VERNISSAGE: ZATERDAG 9 DECEMBER 2017 – 17:00 / 21:00
SOLO UITVOERING OP CELLO DOOR ALEKSANDRA KASPERA AT 19:00
LIVE BROADCAST AT 19:00 OP          facebook.com/breedartstudios>
ADRES: HET LAAGT 178, BLOK H – 1025 GL AMSTERDAM – NL Plattegrond >
Stichting Breed Art verheugt zich de solotentoonstelling EMPYREUM met werk van Christian Zanotto te kunnen presenteren. De tentoonstelling is samengesteld door Sonia Arata en Luca Rezzolla, en de officiële opening zal plaatsvinden op Zaterdag 9 December 2017 van 17-21 uur. Breed Art Studios is gevestigd in Amsterdam-Noord, Het Laagt 178, (Plan Van Gool).
De installatie, die tot en met 13 januari 2018 te zien zal zijn, zal de 'white cube' van de expositiezaal omtoveren in een holografisch theater, een toneel van caleidoscopische projecties, die de hele ruimte over 360 graden zullen beslaan. De bezoekers kunnen zich vrij door de ruimte bewegen, om opgenomen te worden in een levendige en zwevende wereld van licht en kleur.
De locatie gebonden video-installatie EMPYREUM is opgebouwd uit 12 holografische projectieschermen: rechthoekige, lineaire modules, in paren in de ruimte geplaatst, die, onvoorspelbare trajecten volgend, golvende digitale entiteiten in beeld brengen en weerspiegelen. Beelden die gecreëerd en tot leven gebracht zijn in de virtuele wereld van Christian Zanotto. De gewichtloze figuren vermenigvuldigen zich in een digitaal universum, een soort hemelrijk op schaal, dat onder ons tot leven is gebracht door de lichtende stralen van de beamers in een rondedans van schittering, galm, reflecties en etherische verschijningen.
Open geometrische structuren en een immateriële werkelijkheid kruisen elkaar in dit hedendaagse visioen van een digitale hemel, bevolkt door een scala aan gevleugelde figuren, engelen met glanzende vlerken, die zich aan ons voordoen in een choreografie van fladderende bewegingen, in een zwaartekrachtloze dimensie op een onstoffelijk niveau.
Christian Zanotto, die sinds 2000 afwisselend in Amsterdam en Venetië woont en werkt, is bezig met een bijzonder artistiek onderzoek, gericht op het samenbrengen van materieel en immaterieel, van de virtuele en de traditionele wereld, en hoe die onderling communiceren. De kunstenaar creëert ontastbare sculpturen die hij vervolgens vertaalt in muur beelden op kristal panelen of holografische films en installaties: audiovisuele werken die de toeschouwer confronteren met een "andere" context, aangrenzend, evenwijdig en even werkelijk als die we gewoonlijk waarnemen, een enscenering van meerdere niveaus van de werkelijkheid. Christian Zanotto's C.V. >
Breed Art is een stichting voor hedendaagse kunst, gewijd aan een intens programma van culturele activiteiten: tentoonstellingen en evenementen, gericht op de presentatie van prominente Nederlandse en internationale kunstenaars die zich onderscheiden door de inzet waarmee ze hun onderzoek doen, een origineel gebruik van media en een innovatieve houding ten opzichte van artistieke productie, installatie en performance.
Aleksandra Kaspera is in 1984 geboren in Riga, Letland. Naast haar solo carrière werkt ze vaak samen met violiste Lisa Jacobs en The String Soloists. The String Soloists zijn reeds uitgevoerd op grote podia in Nederland (Concergebouw Amsterdam, Paleis Het Loo, Tivoli Vredenburg, De Harmonie Leeuwarden, Stadsgehoorzaal Leiden, Muziekgebouw Eindhoven), Duitsland, Italië en werden uitgenodigd om live uit te voeren op de Nederlandse radio en TV. Aleksandra Kaspera – C.V. >
FONDAZIONE BREED ART  presenta
CHRISTIAN ZANOTTO EMPYREUM
MOSTRA: 9 DICEMBRE 2017 – 13 GENNAIO 2018
CURATORI: SONIA ARATA E LUCA REZZOLLA
INAUGURAZIONE: SABATO 9 DICEMBRE 2017 – 17:00 / 21:00
ASSOLO DI VIOLONCELLO DI ALEKSANDRA KASPERA ALLE 19:00
LIVE STREAMING ALLE 19:00 SU  facebook.com/breedartstudios>
INDIRIZZO: HET LAAGT 178, BLOK H – 1025 GL AMSTERDAM – NL Mappa > 
La Fondazione Breed Art ha il piacere di presentare EMPYREUM,  mostra personale di Christian Zanotto, a cura di Sonia Arata e Luca Rezzolla, che sarà inaugurata Sabato 9 Dicembre 2017 dalle 17:00 alle 21:00, presso Breed Art Studios, in Het Laagt 178, Amsterdam Nord.
L'evento,  in corso fino al 13 Gennaio 2018, trasformerà il "white cube" del volume espositivo in un particolare teatro olografico a tutto ambiente, scena di caleidoscopiche proiezioni che coinvolgeranno a 360 gradi lo spazio e i visitatori, liberi di attraversarlo e di essere così coinvolti ed immersi in una aerea apnea, nell'atmosfera vivida e sospesa di luci e colori.
La video installazione EMPYREUM, opera site-specific, si compone di 12 schermi per proiezione olografica, quadrati moduli lineari che, dislocati a coppie nello spazio, captano e rifrangono lungo imprevedibili direttrici le fluttuanti entità digitali plasmate ed animate nel contesto virtuale da Christian Zanotto, moltiplicandole in una sorta di empireo in scala disceso ad apparire e portato in essere dall'emanazione luminosa di proiettori, in un girotondo di chiarori, riverberi, riflessi ed eteree presenze.
Candida strutturalità geometrica ed immaterialità si intersecano in questa contemporanea visione di un cielo numerico popolato da una coltre di alate figure, lucenti angeli pinnati che ci appaiono in una coreografia di movimenti volteggianti in una sfera priva di gravità, diverso e incorporeo piano dimensionale che si manifesta.
Christian Zanotto, che dal 2000 vive e lavora tra Amsterdam e Venezia, porta avanti una peculiare indagine artistica mirata ad una fusione tecnica e concettuale tra materiale e incorporeo , tra l'universo del virtuale e quello della tradizione, esplorando i modi in cui essi si interfacciano. L'artista modella sculture intangibili che traduce in lavori a parete su lastra di cristallo o in sequenze e installazioni olografiche, opere audio-visive che mettono a confronto il fruitore con un ambito altro, attiguo, parallelo e compresente a quello comunemente percepito, messa in scena dei molteplici livelli del reale. Christian Zanotto – C.V. >
Breed Art è una fondazione per l'arte contemporanea dedita ad una intensa attività culturale di programmazione di mostre ed eventi focalizzati alla presentazione di artisti di rilievo del panorama olandese ed internazionale che si distinguono per l'impegno nella ricerca, l'originalità dei mezzi espressivi e l'attitudine innovativa verso la produzione artistica, l'installazione e la performance.
Aleksandra Kaspera è nata nel 1984 a Riga (Lettonia). Oltre ad una carriera solista Aleksandra lavora con la violinista Lisa Jacobs e The String Soloists; l'Ensemble si esibisce regolarmente nelle più importanti sale in Olanda (Concertgebouw Amsterdam, Paleis Het Loo, Tivoli Vredenburg, De Harmonie Leeuwarden, Stadsgehoorzaal Leiden, Muziekgebouw Eindhoven), Germania e Italia ed è spesso ospite dal vivo in programmi di radio e televisioni olandesi. Aleksandra Kaspera – C.V. > 
Photos Attilio Brancaccio
Photos Sonia Arata | Christian Zanotto | Tatjana Todorovic | Franco Cavuoto
Making of
Daylight
Videos & photos Luca Rezzolla
Till SATURDAY JANUARY 13 2018
THU FRI SAT: 2PM – 8PM