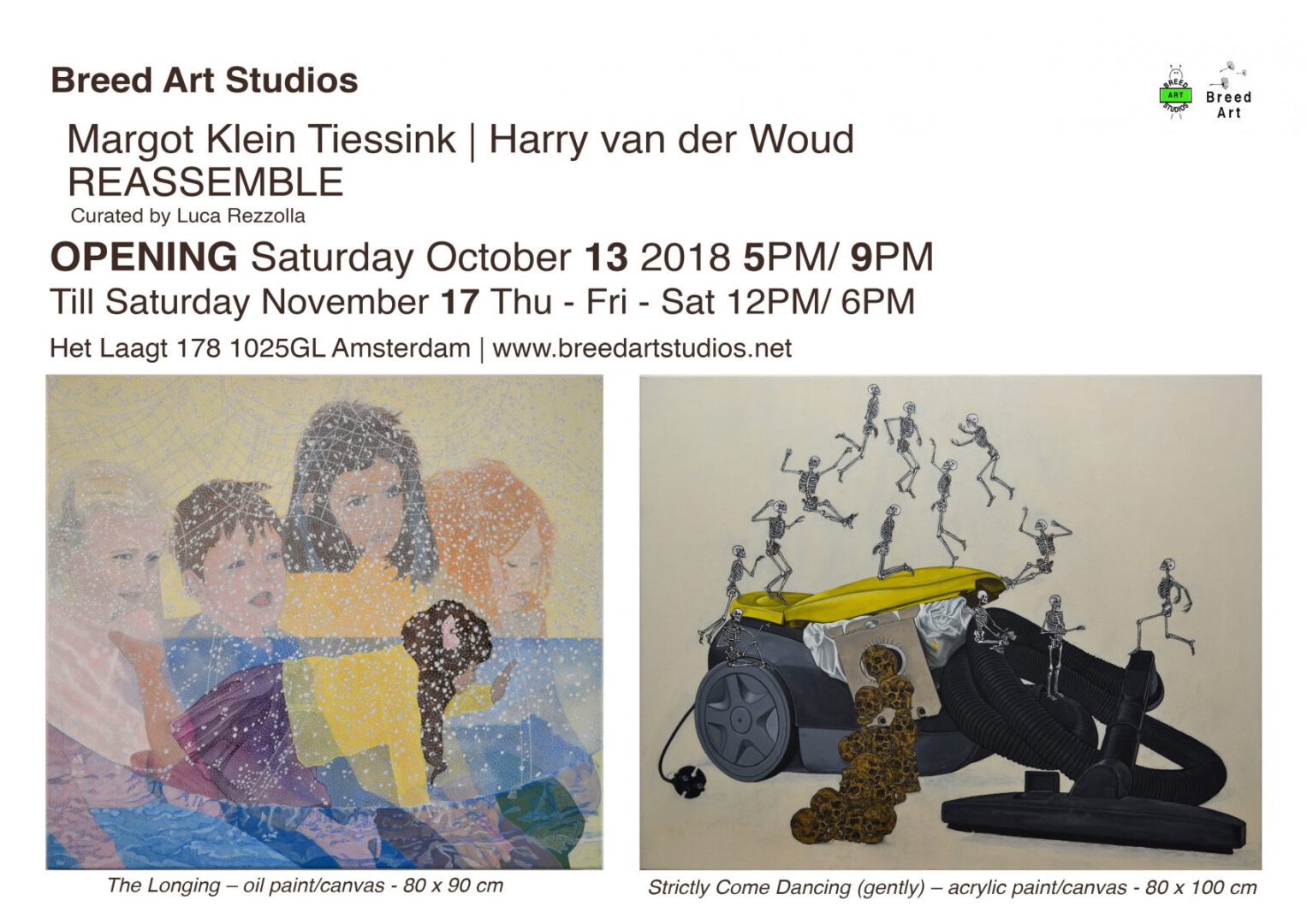 Margot Klein Tiessink | Harry van der Woud


REASSEMBLE
October 13 – November 17    Curated by Luca Rezzolla
OPENING

Saturday October 13  5PM/9PM
Workshop

+ Tour

with

Harry & Margot
Saturday November 10  3PM
OPEN:
Thu- Fri- Sat

12PM/ 6PM


REASSEMBLE is een ode aan de verbeelding, de zuurstof voor de geest. 
Margot Klein Tiessink (Meppel, The Netherlands), afgestudeerd aan de academie Minerva Groningen, woont en werkt in Amsterdam.                       
"Mijn werk is een samensmelting van meerdere beelden over elkaar, waardoor een bijzonder twee dimensionaal beeld ontstaat. Een analogie met de hedendaagse hoeveelheid aan beelden in ons dagelijks leven. Rode draad is het verlangen naar wat was, is en kan zijn. Fictie als herinnering, herinnering als fictie. De materiaalbehandeling en de kleurrijke voorstelling komen over als stof, dat proces ervaar ik als fascinerend, dat je in staat bent een alternatieve wereld te scheppen. Ik leg de tijd om me heen vast door middel van fotografie, deze foto's vormen de basis van mijn schilderijen."                                               
Harry van der Woud (Leeuwarden, Nederland), afgestudeerd aan de academie Minerva Groningen, woont en werkt in Amsterdam.        
"Transformatie in plaats van voorgekookte keuzemogelijkheid. Leven in plaats van geleefd te worden, ontsnappen in plaats van ingebonden worden in een bedacht lichaam in de hoop geaccepteerd te worden, maar door wie? Beeldvorming en identiteit lijken te worden bepaald door het bekeken worden door de Ander en door diens beoordeling. Als ik niet wil verdrinken in andermans projecties, gedrag, hoop en macht, dan moet ik waarheden en werkelijkheden zelf verzinnen. Deze bezigheid ligt niet alleen aan de basis van mijn plannen en ideeën, maar kan ook dagelijks hernieuwd worden toegepast."
REASSEMBLE is an ode to imagination, the oxygen for the soul.
Margot Klein Tiessink (Meppel, The Netherlands), graduated at Academy Minerva Groningen in 1991, lives and works in Amsterdam.                            
"My work is a fusion of multiple images applied in layers, thus creating a particular two-dimensional image. It forms an analogy with today's quantity of images in our daily lives. The driving force in my work is the desire for what was, is, and can be. Fiction as memory, memory as fiction. The material treatment and the colourful depiction generate a fabric feel, which is fascinating in the perception of the public. I capture time by means of photography; the photos form the basis of my paintings."                                                                                               Harry van der Woud (Leeuwarden, The Netherlands), graduated at Academy Minerva Groningen in 1988, lives and works in Amsterdam.            
"Transformation instead of a pre-arranged options menu. To live rather than to be lived, to escape rather than to be locked inside a designer body, hoping to be accepted – by whom?
Image-building and identity seem to be determined by being watched and judged by The Other.
In order not to drown in other people's projections, actions, hopes and influences, I have to make up my own truths and realities. Not only is this activity the starting point for all my plans and ideas – it can be revived and applied daily."
Opening toespraak van/ Opening speech by PAUL SCHEERDER sr. (Stadsdeelcommissie/ Municipality Amsterdam Noord)
Photos & videos Luca Rezzolla