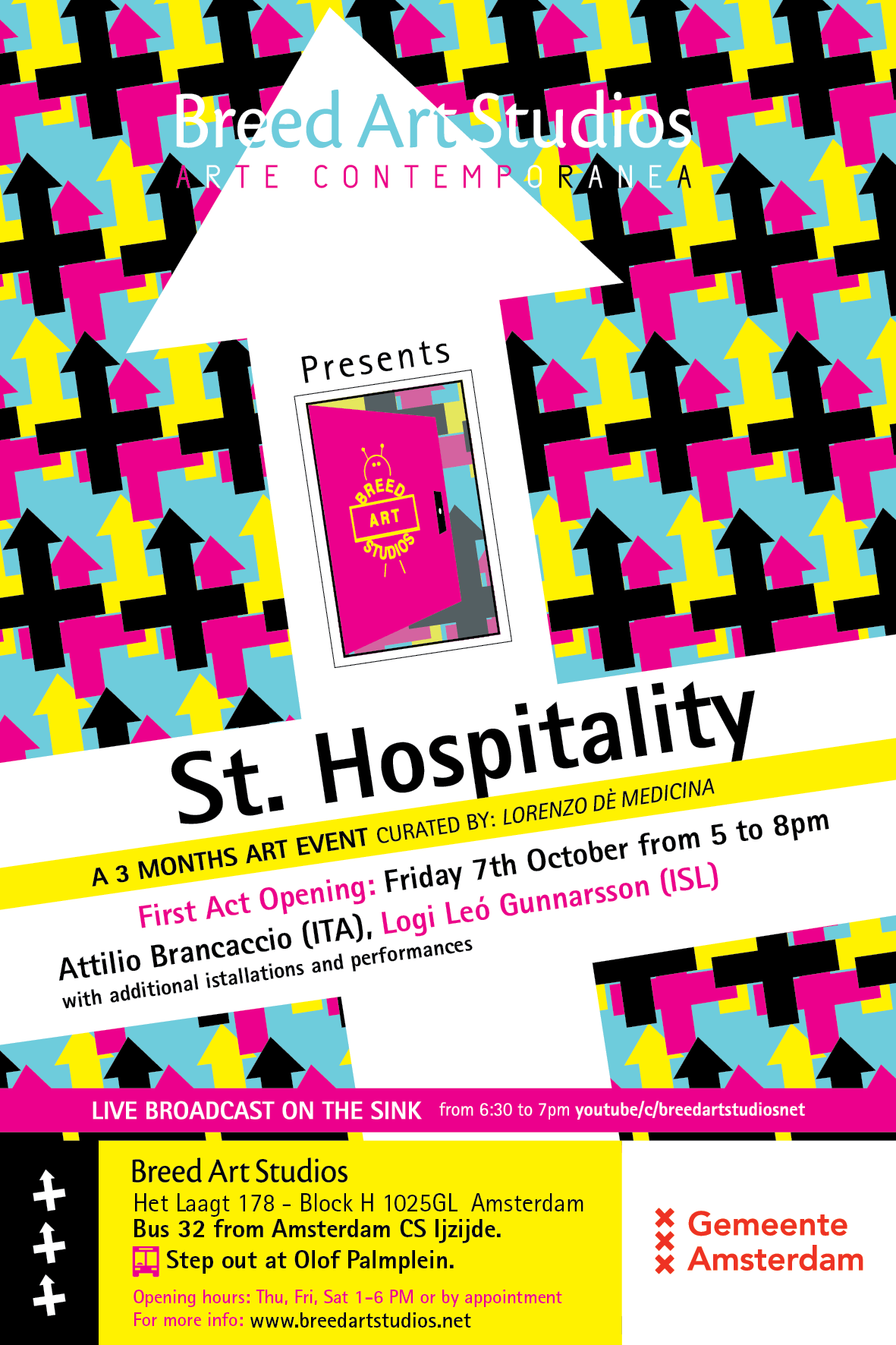 In de komende maanden oktober, november, december – Breed Art Studios heeft een aantal kunstenaars uitgenodigd om werk – of individuele 'bodies of work' – bij te dragen aan één of meer van de 3 shows/maanden.
De lijst met namen is als volgt: Attilio Brancaccio, Logi Leó Gunnarsson, Tilmann Meyer-Faje, Ívar Glói Gunnarsson, Hreinn Friðfinnsson, Eva Ísleifsdóttir, Anne Rombach, Katrín Inga Jónsdóttir Hjördísardóttir, Linda Cuglia, Sigurður Ámundason, Indriði Arnar Ingólfsson, Brynjar Helgason, Styrmir Örn Guðmundsson, Arnar Ásgeirsson, Margrét Blöndal, Hrafnhildur Helgadóttir en er komen er nog meer. ..
OPENING

ACT I


ATTILIO BRANCACCIO en LOGI LEó GUNNARSSON


met aanvullend werk van Steingrimur Eyfjord, Katrín Inga Jónsdóttir Hjördísardóttir, Brynjar Helgason, Indriði Arnar Ingólfsson, Anne Rombach en Muggur.
Vrijdag 7 okt 17:00 – 20:00 uur
@ 18.30u Live uitzending
Photos Luca Rezzolla
*COSMOS/ Warrior Attilio Brancaccio
Speciaal FINISSAGE
Zaterdag 29-10-2016 17:00/8:00
@ 18:30 Bjartur, Gauti & Satan
A lyrical performance.
Woorden en muziek van Gunnar Gunnsteinsson
Bjartur en Gauti zijn broers die voor het eerst uit elkaar gaan. Gauti verhuist naar de buitenwereld en laat Bjartur achter in IJsland. Hij ontvangt alleen brieven van zijn oudere broer die ingrijpende gevolgen hebben voor zijn leven.
T/m 29 oktober: do – vr – za 13.00/18.00u