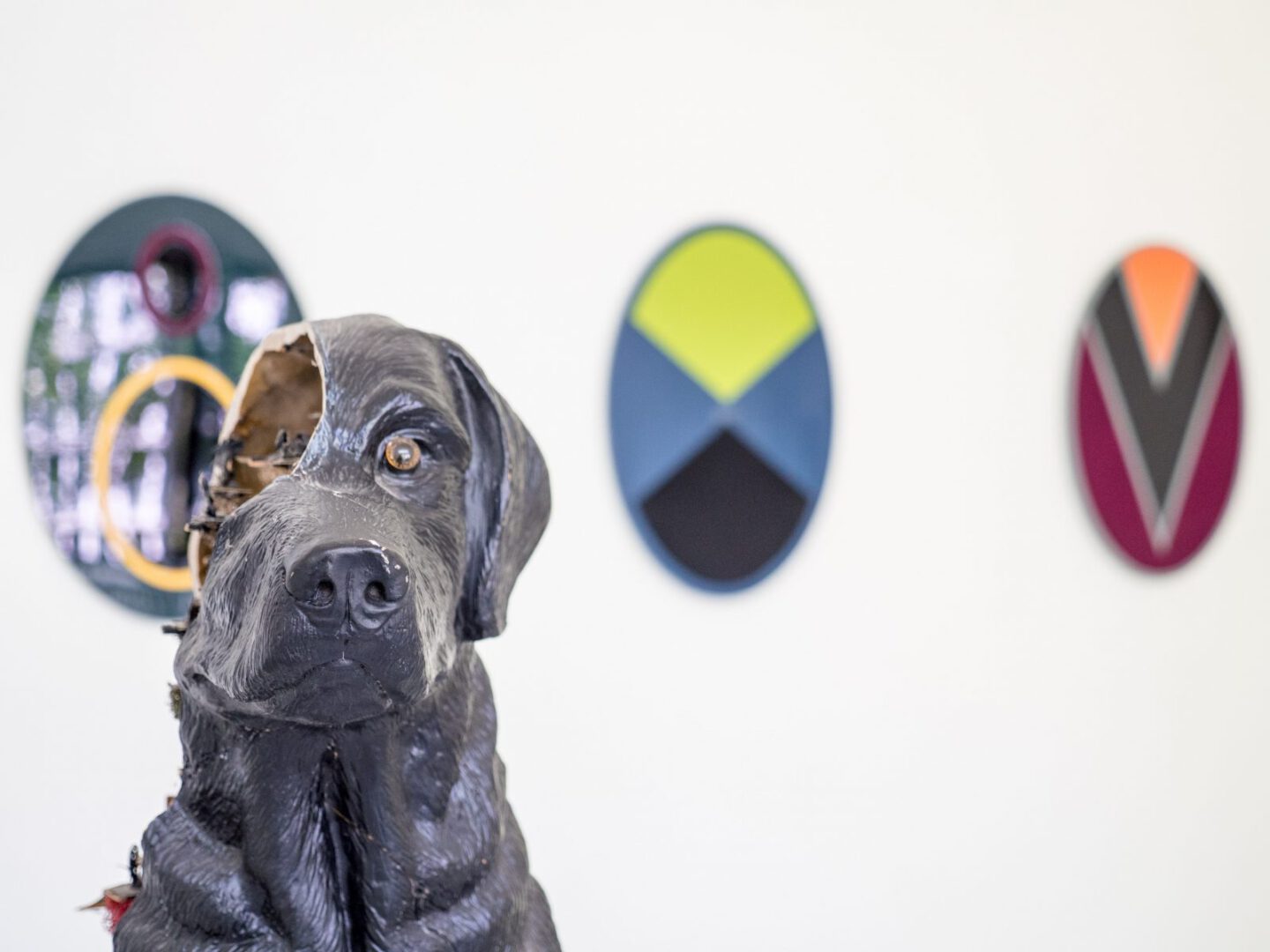 Verlengd! Tot 15 juli, alleen op afspraak.
Fondazione Breed Art presenteert
Mario Consiglio (IT) 


LAST PRIMITIVES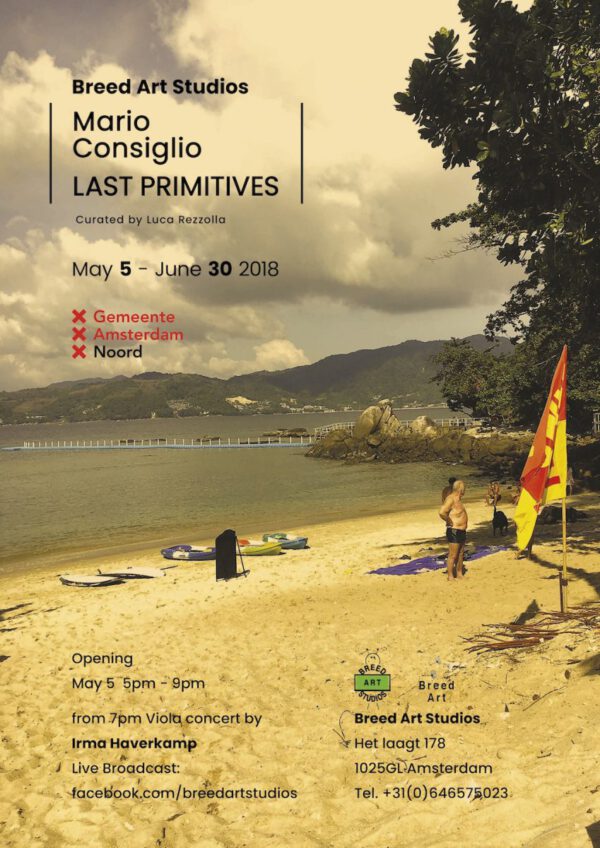 5 mei – 30 juni 2018
Samengesteld door Luca Rezzolla
OPENING


zaterdag 5 mei 2018
17.00 – 21.00 u
Viola concert door Irma Haverkamp 19u
Openingstijden


do – vr – zat
12.00 – 18.00 u
Foto Luca Rezzolla
Foto Scudi Andrea Adriani, foto dettagli, Luca Rezzolla
'LAST PRIMITIVES'

toont werken van
Mario Consiglio
voor de eerste keer in Amsterdam bij
Breed Art Studios
in de suggestieve brutalistische  omgeving van Plan van Gool, gemaakt in 1968 door architect Frans van Gool en deel van de 100 jonge monumenten in Amsterdam. De expositie loopt tot en met 30 juni 2018.
Het totaal bestaat uit 13 'Shields of Peace' (speciaal gemaakt voor Breed Art Studios) en de geluids- en visuele installatie 'No Borders', recent gepresenteerd in Perugia. Het hele schouwspel zal goed worden bewaakt door 'A dog inside'.
De "Shields of Peace" verwijzen naar door primitieve stammen gebruikte vormen en de felle kleuren roepen verschillende culturen op, verbonden door een denkbeeldige lijn die bij autochtone Amerikanen begint en door Noord-Europa komt tot aan Afrika en verder.
In zijn Ironische en krachtige post punk boodschap, uitgeschreeuwd door letters en techno kleuren, spreekt hij over humanisme, als een vorm van 'primitieve zuiverheid' en ziet de noodzakelijke interactie van dieren en cellen als een symbool van symbiotische en ondersteunende samenwerking die in onze maatschappij aan het uitsterven  is.
"Benader de hond, hij zal je niet bijten … ga dichterbij … een stad zal verschijnen, een microkosmos, in de natuur opgenomen, waar hedendaagse architectuur een moleculaire constructie wordt, welke soms leidt tot het herscheppen van de interne organen van het dier zelf."
We are the last Primitive people!
Mario Consiglio (1968, Maglie, IT) woont en werkt in Perugia (Italië). In zijn laatste werk focust Mario Consiglio op de ironische verandering/vervorming van het beeld en het hergebruik van materialen, waarbij hij zich bezighoudt met actuele onderwerpen van de hedendaagse samenleving en haar verval.
Als Professor aan de Accademia di Belle Arti van Perugia (IT), heeft Consiglio in verschillende privé- en openbare ruimtes geëxposeerd, nationaal en internationaal.
Onder andere: Grimmusuem, Berlijn, DE; Trolley Gallery, Londen, VK; Palazzo Bricherasio, Turijn, IT; Museo Pecci, Prato, IT; Galeria Villena, Havana, CUB; Studio Visconti, Milaan, IT; MACRO, Rome, IT; Fondazione Sandretto, Turijn, IT; Gran Central Terminal, New York, VS; Art in Perpetuity Trust, Londen, VK; Istituto Britannico, Rome, IT; Spiral Hall, Tokyo, JP; Art Basel – Professional Day, Basel, CH; 798 Art District, Beijing, CN; Gay Palace, Rotterdam, NL; Palazzo della Penna, Perugia, IT; Galleria Eva Menzio, Turin, IT; Praag Biënnale, CZ; Palazzo Lucarini Trevi, Perugia, IT; Palazzo Reale, Napels, IT; Fondazione Zappettini, Milaan, IT; Villa Elisabeth, Berlijn, DE; Italiaans paviljoen, Expo 98, Lisboa, PT; Gallery MC, New York, VS; Esprit Nouveau Pavillion, Bologna, IT; Palazzo Morelli Fine Art, Todi, IT; Flash Art Museum, Trevi, IT; Rare Office, Berlin, DE; Fondazione Querini Stampalia, Venetië, IT; White Spider Col Condensa, Mexico City, MEX; Nolias Gallery, Londen, Verenigd Koninkrijk, Martina Re Gallery (Miami, FL), Galleria Seno (Milano, IT), Galleria Astuni (Pietrasanta, IT), Breed Art Studios (Amsterdam, NL), Studio La Città (Verona, IT).